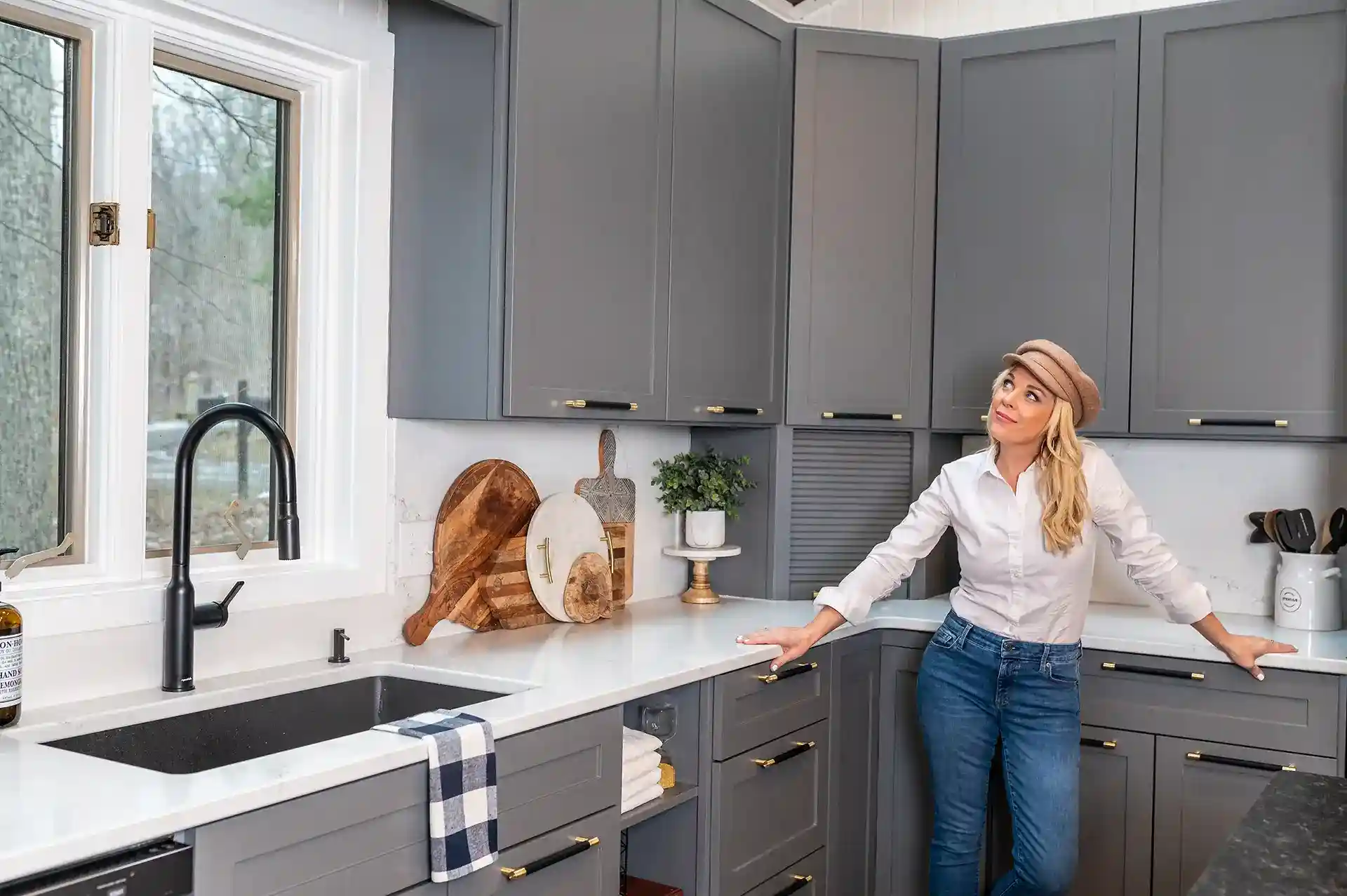 When designer Kortney Wilson bought her lake house in rural Kentucky, her goal was to create a space to gather, retreat, relax and enjoy time with loved ones.
As she slowly transformed the space into one that was uniquely hers, while still preserving the rustic charm that drew her to the property, the kitchen quickly became a topic of consideration. To remodel or not to remodel?
The Before
Working her way through updates in the home, Kortney updated the countertops from a tile mosaic island and laminate perimeter cabinets to stunning new quartz, which then drew more attention to the doors looking dated. Since she had just purchased new counters, it seemed wasteful to rip everything out and redesign the kitchen!
After discussing the possibilities that cabinet refacing created in this project, updating the cabinet doors with Nieu was the exact concept she was looking for to make the space feel elevated and cozy for herself and her family to enjoy. The layout didn't change, but she wanted to create a space where people could gather and hangout while enjoying a weekend or getaway at the lake, and somewhere that felt more on-part with her overall design and style than the formerly "Aztech" looking mosaic tile and wooden cabinetry.
---
"I had liked a few kitchens on social media that I noticed were done by Nieu Cabinet Doors so they had already piqued my interest. When I bought my lakehouse I had invested a lot of time and energy into making decisions that would last for years to come as I plan to pass this house onto my kids so I was super intentional in the products I used. I'm beyond thrilled with the outcome. The quality exceeded my expectations"
– Kortney Wilson, Designer
---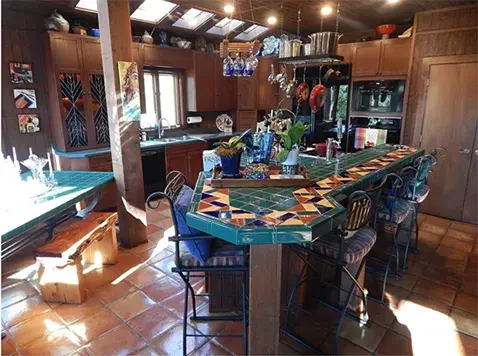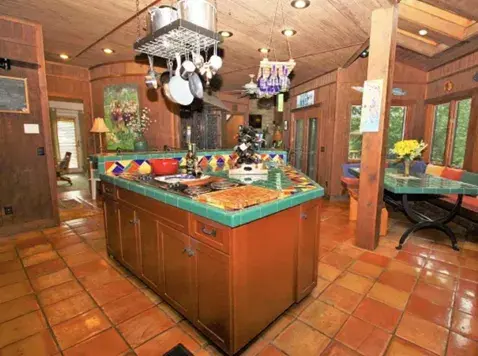 The Before: Kortney Wilson's Lake House kitchen before updating.
---
The Process: Cabinet Refacing
From measuring to ordering and installation, Kortney tackled this project DIY style!
---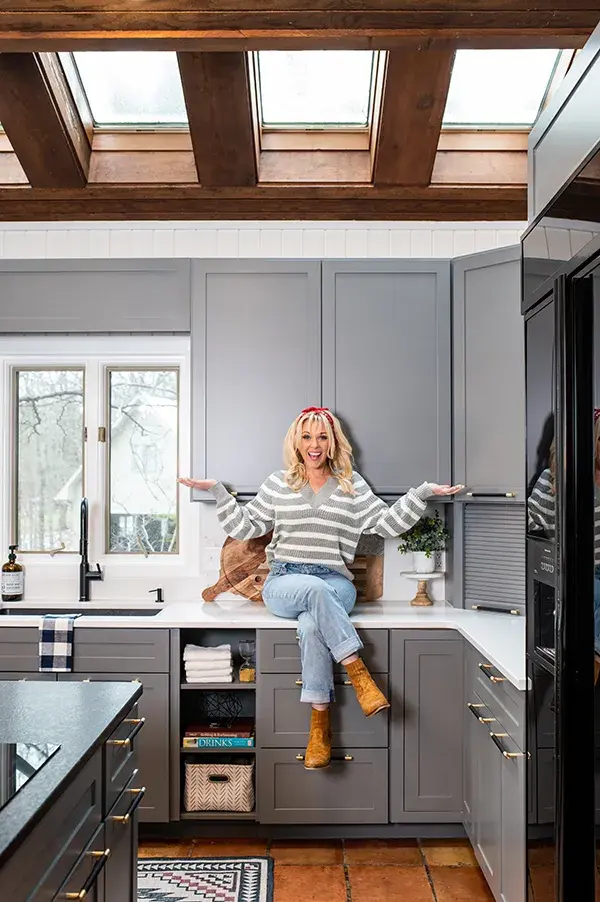 Key Features
The renovated space is one that encourages you to cozy up with a cup of tea for a long chat, to gather around the island for a meal with friends and loved ones, or to relax and unwind while preparing a meal together. The huge island and built-in dining area encourages togetherness, and the updated space balances both fresh and updated with lake-house charm.
The design encompasses brass and black handles to tie the black countertops, grey cabinetry and light perimeter cabinets together while the shiplap and wood panelled ceiling envelop you into a rustic retreat.
"It was such a win to find such beautifully made cabinet doors to help modernize my lakehouse kitchen while reducing my carbon footprint on this renovation. I'm so grateful that I didn't have to just gut it all and start from scratch but that the result looks like I did just that."
– Kortney Wilson, Designer
---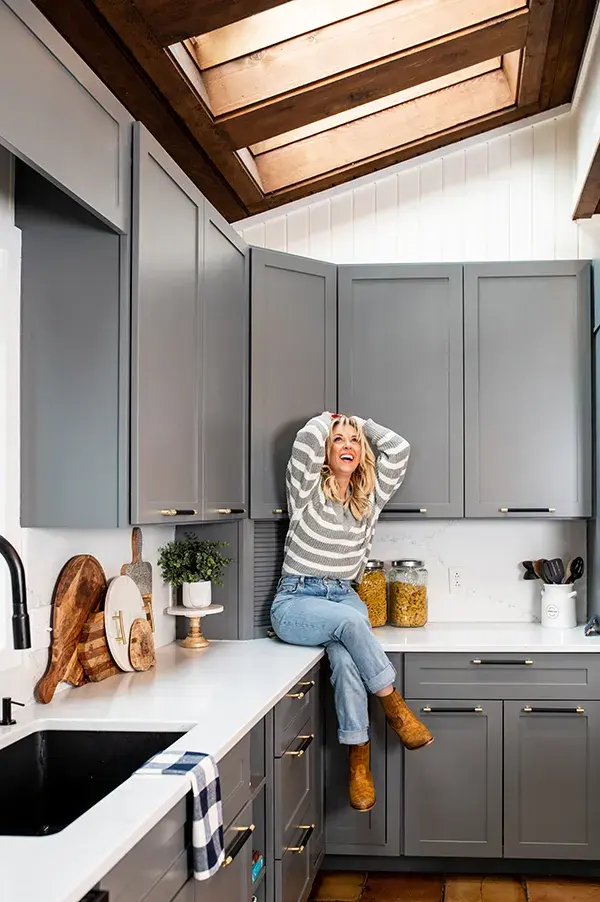 ---
Design Elements
The warm tile floor and cozy beams and skylights were strong design anchors for the kitchen. Perimeter cabinets used a light quartz countertop while the island is grounded with a dark counter. Black & brass two-toned handles add to the striking look.
Kortney used the Angela Rose Slim Shaker cabinet doors in Sherwin Williams Westchester Gray (SW2849) to bring her design to life!
---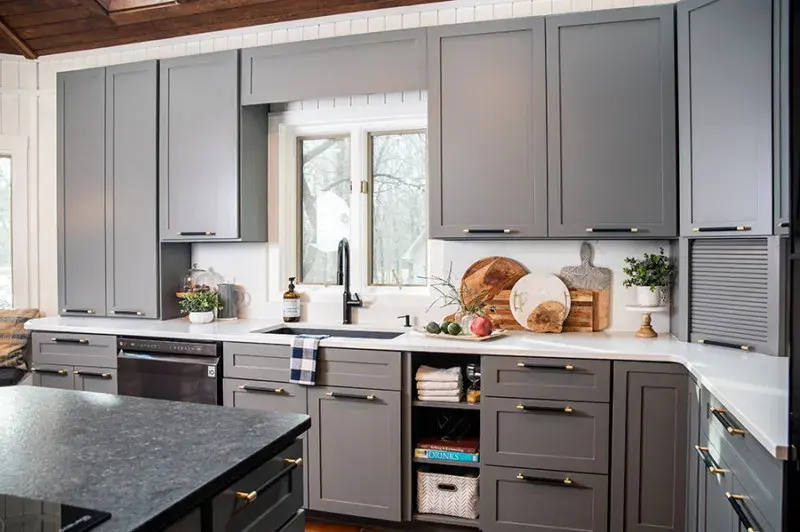 ---
Project Cost
Updating the cabinet doors with Nieu cost only $4,700 compared to the cost, time, and inconvenience of a kitchen remodel! The original character and layout of the kitchen was kept intact, while indulging in some modern updates and finishes. Cabinet refacing typically saves up to 60% of the cost of a remodel!
---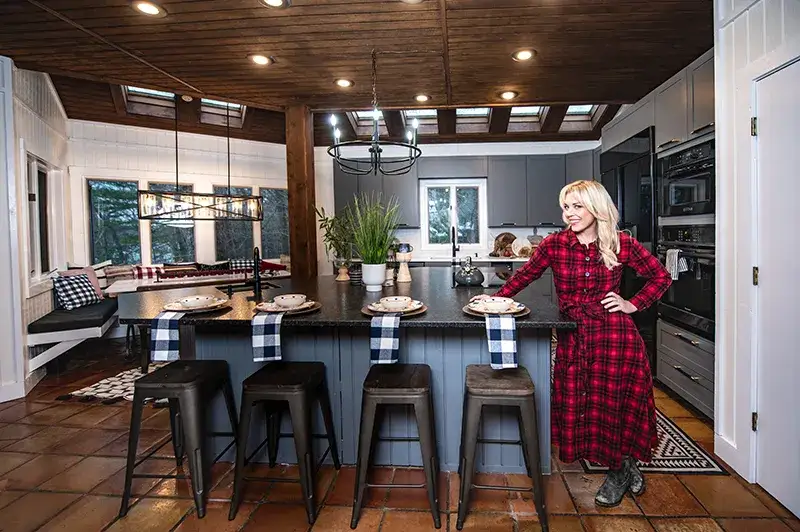 ---
I was thrilled to partner with Nieu Cabinet Doors on my lakehouse kitchen. The entire process was so much easier than gutting an entire kitchen. From measuring to install, I'm a pretty happy camper with the results. I can also see a boatload of people in there making memories for years to come."
– Kortney Wilson, Designer