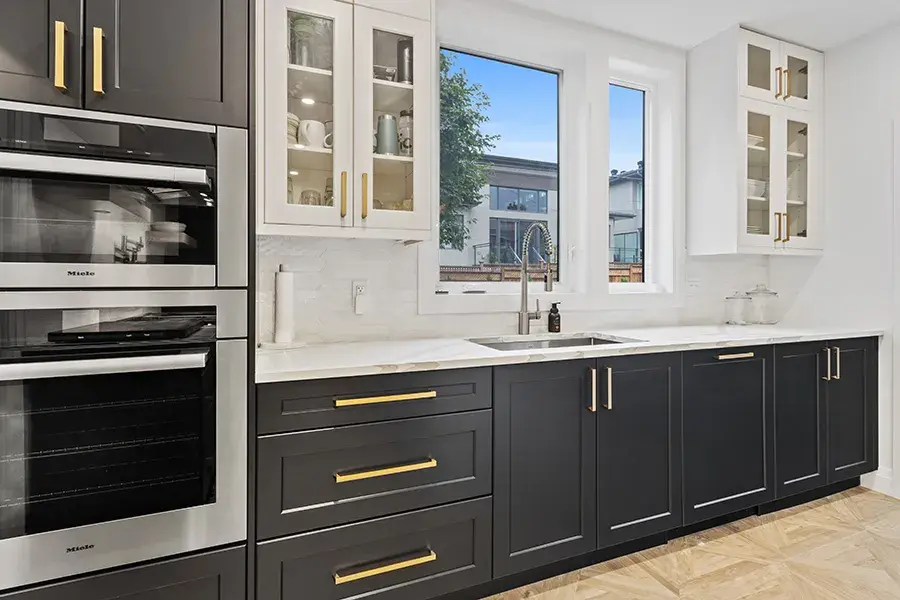 So you've finished designing your new dream kitchen or are about to remodel your old one. The color scheme is decided, the sinks, new cabinet doors, drawers, and countertops are all in place, and now's the time for the finishing touch — choosing your cabinet hardware. By "hardware," we mean the knobs and pulls, hinges, and organizers that will make your kitchen space both functionally and aesthetically complete. So, read on for a few tips on choosing the best cabinet hardware to complement your vision for your perfect kitchen.
---
Choosing Cabinet Hardware for Your Kitchen
There are plenty of choices to make when it comes to deciding on your cabinet hardware, most especially the knobs and pulls that will complete the look and feel of your kitchen. These cabinet hardware choices involve decisions about both the look and function of your kitchen, not to mention considerations of comfort and cost estimate. For example, do you choose square or round knobs, vertical or horizontal pulls, in traditional or modern styles, with a variety of finishes? There are no hard and fast rules here, but there are some general tips and current trends to guide you in making your kitchen space a beautiful expression of your individual style.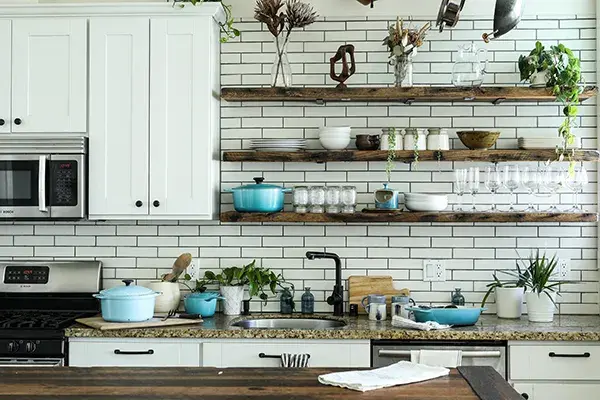 ---
Types of Cabinet Hardware
Generally speaking, knobs are used for cabinet doors and pulls for drawers, but you are free to swap that around as you see fit. Keep in mind that smaller knobs on heavy drawers full of pots and pans may make them harder to grip and open, while pulls will give you more leverage. Also, note that curved pulls, rather than square ones with sharp edges, may be softer on your hands, as will rounded rather than square knobs. Be sure to know what feel you prefer before you buy.
With just the one screw hole to align, knobs are easier to fit than pulls, which require more work to attach, as there are generally two screw points that will need to be aligned with the screw holes on your drawer or cabinet door. This can be problematic when replacing old pulls in a kitchen makeover, although there are adjustable pulls available that could get the job done. Also, square knobs may tend to rotate and go out of alignment unless locked in place, while this problem doesn't occur with round knobs. Finally, knobs are usually cheaper than pulls, especially when it comes to metallic finishes.
With these functional concerns in mind, either type of cabinet hardware will work just fine in your new kitchen, but your choice of pulls and knobs will affect the look. Knobs will have a smaller visual profile than pulls, while longer vertical pulls can make a bold statement on a tall cabinet and accentuate its lines.
You can use all knobs or all pulls, you can mix knobs and pulls on various cabinets and drawers, and the results can transform your space in markedly different ways. There are also various types of pulls, including finger, cup, bail, recess, and ring pulls, all of which can subtly change the look and feel of your entire space. Try sketching out the lines of your kitchen and cabinets and then drawing in a variety of knobs and pulls to see which look you might prefer.
---
Select your cabinet hardware style
After you've chosen the type of cabinet hardware for your kitchen, you can decide on the style to suit your tastes and vision. For example, are you after a contemporary or modern look to your kitchen, with clean lines in a minimalist style? Or maybe you would prefer a traditional look with more ornate, textured details? Or something transitional between the two? Then again, perhaps your vision of your perfect kitchen is more eclectic? Whatever style you go for, once you've decided, it's usually best to stick with it and not mix it with other styles, as you can quickly end up with a confusing aesthetic. Then again, you're free to mix and match as you please — it is the end result that counts! At Nieu, we offer a full range of knobs and pulls in a variety of styles for you to browse through.
---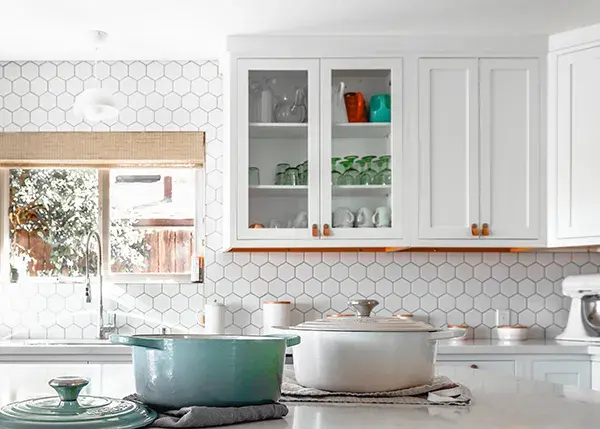 A kitchen with contemporary leather pulls.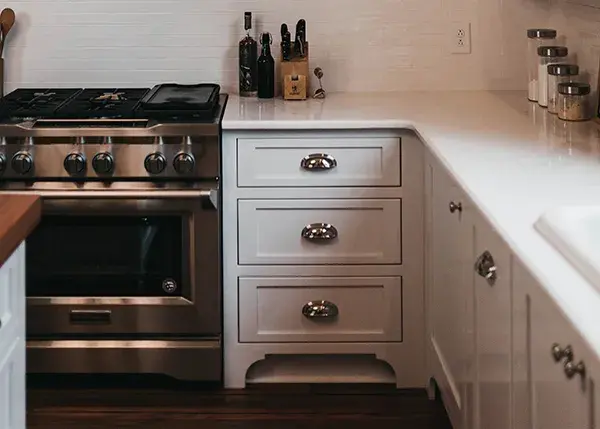 A kitchen with traditional cup pulls.
---
Choose your cabinet hardware finish
From nickel and stainless steel to bronze or brass, chrome or black finishes — your choice of hardware finish will also change your kitchen's look in various ways. Consider the color scheme of your walls and cabinets and the finish of your sinks, faucets, and lighting, and mix and match your cabinet hardware finish to suit your style. For example, brass finishes may suit warmer tones and more traditional styles, while chrome or black finishes may go with more contemporary or modern styles.
Again, there are no hard and fast rules saying you must match your cabinet hardware with your kitchen hardware. Many kitchens successfully mix their metal finishes between the faucets, lighting, and cabinets, adding a layered depth to the whole space. However, your cabinet hardware should have the same finish, and if in doubt, black pulls and knobs will tend to complement a variety of metal finishes in your kitchen.
---
Deciding on your cabinet hardware sizes
While your drawers and cabinets may all be of different sizes, it is perfectly reasonable to go with just the one size for your knobs and pulls. This uniformity can give a cohesive look and feel to your kitchen space. On the other hand, you can also choose to use wider knobs and longer pulls on larger cabinets and drawers, especially where this makes them easier to open and close. A general rule of thumb regarding pull sizes is for the length to be around 1/3 the width of your drawer or cabinet. And on very wide drawers, you could use two smaller knobs or pulls.
---
Mixing knobs and pulls on kitchen cabinets
Can you mix knobs and pulls on kitchen cabinets? Generally, you can mix your knobs and pulls — or decide on all knobs or all pulls in just one size or matched to your drawer and cabinet sizes. However, you should probably decide on just the one style and finish for your cabinet hardware and stick with it. But, again, this is just a general rule of thumb, and rules can be broken to suit your own individual preferences!
For your mixing and matching inspiration, Jo Marie at Blissful Builds and Interiors shared an image of her experiments with mixing and matching pulls and knobs. In Jo Marie's kitchen, scalloped silver pulls are used for drawers and cabinets lower down, while darker silver knobs contrast against the white cabinet finish higher up.
---
Current Cabinet Hardware Trends
Selecting kitchen cabinet hardware that looks great, makes a statement, and complements the look and feel of your chosen kitchen style can be a daunting task. So, we've added a little cabinet and hardware pairing inspiration below to help you along the way.
What color hardware for white kitchen cabinets?
It's hard to decide what color hardware for white kitchen cabinets, but black hardware offers a sleek modern look. With white cabinets as a starting point, you have a wealth of options for the aesthetic direction of your kitchen. If you're looking for a clean, modern look, then pairing your white kitchen cabinets with black hardware is the way to go. Black hardware on white cabinets tends to visually "pop," as seen in the image below. With this effect in mind, modern black cabinet pulls on white cabinets are a great way to achieve more depth and visual impact in your kitchen.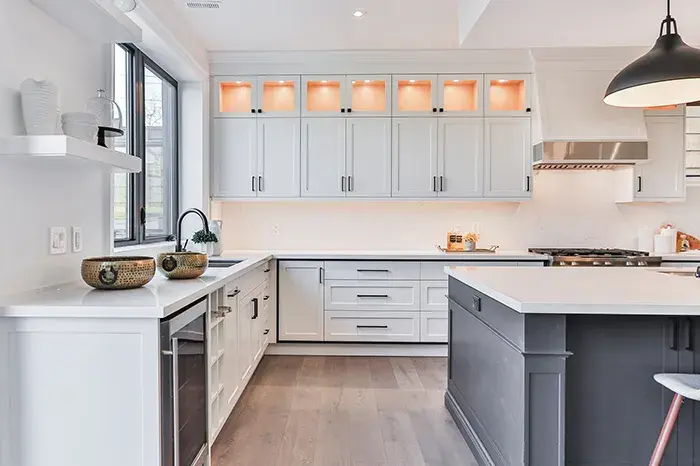 Polish influencer and interior design blogger Monika Przewrocka recently shared a charming tour of her kitchen that features white cabinets with a classic beveled design finished with rustic black handles. You'll notice that this black-on-white contrast also beautifully complements the natural tones of her wood finish kitchen island.
---
White cabinets with chrome hardware
Pairing the white cabinets in your kitchen with chrome or stainless steel hardware allows you to create an exciting yet subtle shift in color with an attractive and contemporary look. Less accentuated than black hardware on white, the chrome finish blends seamlessly with chrome faucets and appliances while complementing brass lighting fixtures.
British interior design Instagram account Little Pettitt Pad shared a sharp and stylish example of this chrome-on-white trend. The design included mid-century modern style handles in a subtle chrome and silver paired with off-white kitchen cabinets and accentuated with cool retro kitchen equipment.
---
White cabinets with brass or bronze hardware
Offsetting cooler all-white surfaces by adding beautiful warm brass or bronze accents is a lovely way to break up that white space and draw attention to your cabinet hardware. While a polished golden finish provides an opulent, luxurious effect, an oiled bronze finish can give a more understated, industrial look. In contrast, a matte bronze finish to your cabinet hardware may have a more subtle effect.
High-end bathroom and kitchen design team Waterworks recently shared some inspiration, matching the rich color of a burnished brass faucet fitting with cabinet hardware in the same metallic finish.
---
Dark brown and wood cabinets with black hardware
Dark-grained wood cabinets have a natural finish that allows the wood grain to become part of the design. Matching your oak kitchen cabinets with black hardware can help you craft a rustic, homey effect using a traditional hardware style or, conversely, a cleaner, more understated modern or transitional feel, as seen in the photo below.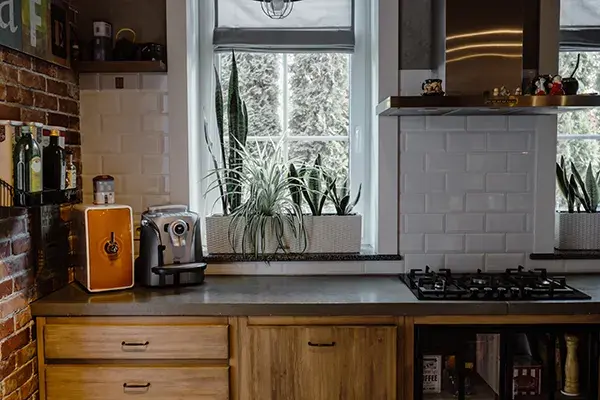 If your kitchen cabinet doors are more uniform in color — think of large dark brown surfaces without much variation or gradation in tone — you can also choose to highlight your dark brown cabinets with black hardware. This pairing leads to a more modern effect for your kitchen, with an overall aesthetic that is right on-trend. Award-winning design firm Z Domus has been deploying natural wood effect cabinets with black handles opposite sleek white cabinets with the same hardware, creating an attractive, multi-faceted aesthetic.
---
Grey cabinet doors with metallic hardware
Grey kitchen cabinets come in many shades, from light to dark and warm to cool. So, what color hardware for grey cabinets? Should you decide to go down this path, these many shades of grey make for an exceptionally versatile color scheme for your kitchen. In addition, virtually all metallic tones, from chrome or nickel and stainless steel, to brass and bronze, will complement your grey cabinets. And if your kitchen already has a busy mix of metallic finishes, grey cabinets with black pulls will also work beautifully.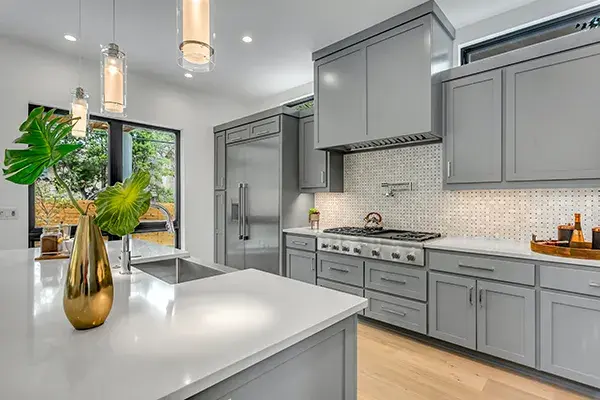 ---
Finish your perfect kitchen with Nieu Cabinet Doors hardware
We stock a wide range of cabinet doors, accessories, and hardware that can help you develop your own unique look and feel for your perfect kitchen. For design advice on choosing the right cabinet hardware for your next kitchen remodeling project, reach out to our team today!