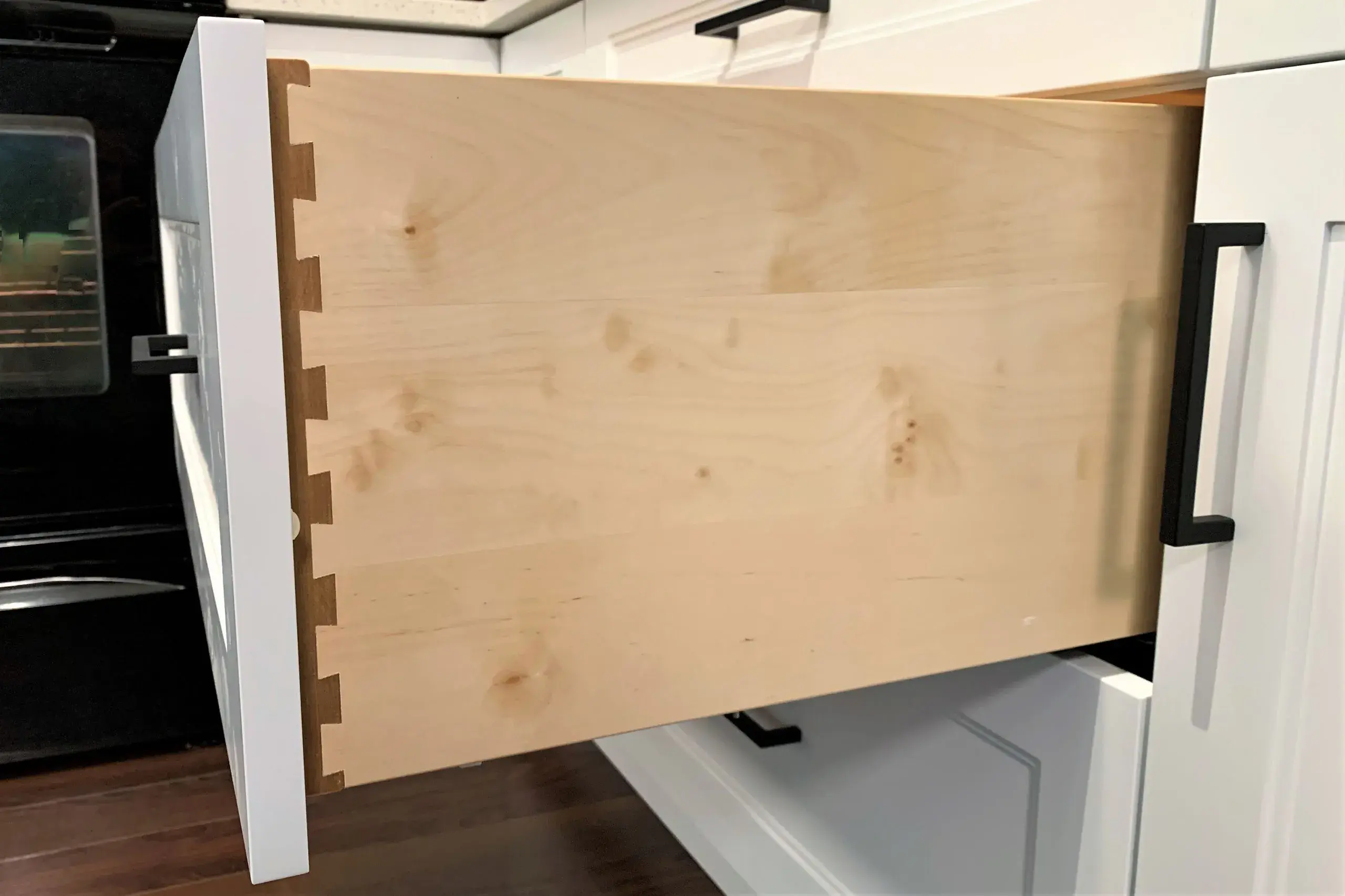 Taking on a kitchen cabinet refacing project is a cost-effective way to upgrade the aesthetic of your kitchen. It is also an ideal time to upgrade the utility of your kitchen by replacing broken or worn out drawer boxes with new, high quality, dovetail drawers with soft close undermount slides.
Drawer boxes endure a lot of abuse in a kitchen, repetitive slamming causes items to shift, eventually weaking the joints of the drawer. Dovetail drawer boxes are the most durable method of constructing drawer boxes and when paired with soft close undermount slides are a simple way yet highly functional upgrade to your kitchen.
What are dovetail drawer boxes?
Dovetail drawer boxes employ a pin and tail method of joinery to lock together the four sides of the drawer creating a very strong connection between the walls of the box. The pins are cut into the ends of one side of the box while the tails are cut into the joining piece. Adding a small amount of glue and locking the two pieces together creates a drawer box that doesn't require screws to hold it together. Lesser drawer boxes use butt joints and either staples or screws to connect the four sides which can and will inevitably fail.
Dovetail drawer boxes also add a sense of style and artisanship to your kitchen as the jig-saw puzzle look of the joinery is visible from the sides and harkens back to the days when such joints would have been made by hand with basic tools and not the modern machines of today.
Dovetail joints have been used in all manner of construction including log houses in colonial days, stone works in India and even Egyptian furniture dating back to 3100 BC. With that sort of longevity there's little doubt that a drawer box constructed with dovetail joinery can withstand the rigors of the 21st century kitchen.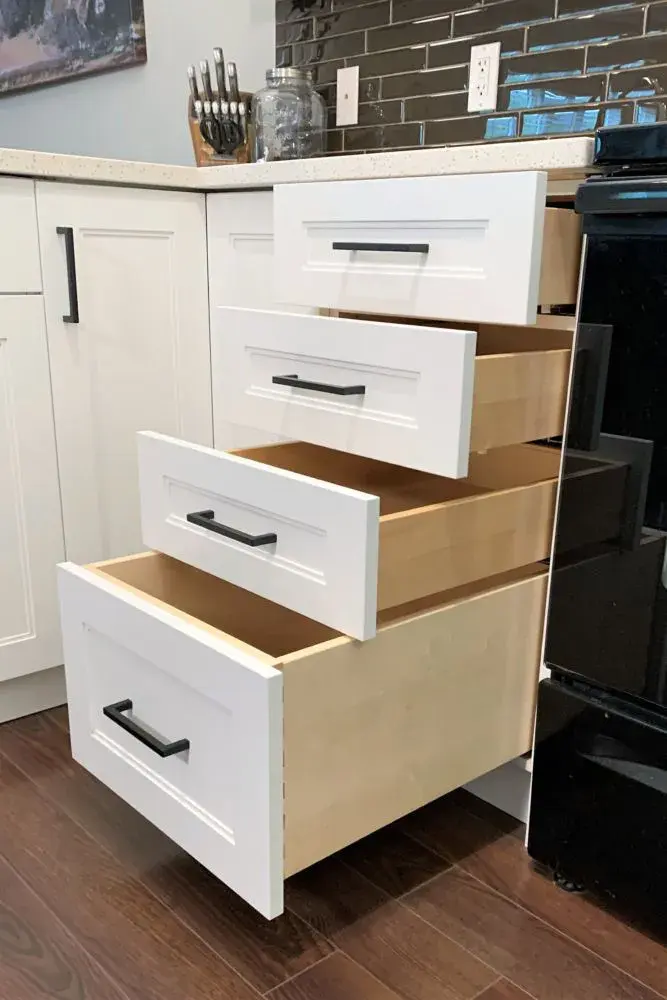 Dovetail drawer boxes paired with Stepped Shaker drawer fronts in Winter White.
Are dovetail drawer boxes worth the investment?
A dovetail drawer box constructed from a birch or maple plywood coupled with a soft close undermount slide will outlive lesser drawer boxes joined with staples or screws. The single most requested upgrade when working with customers on their kitchen cabinet refacing project is upgrading builders grade melamine drawer boxes that have become wobbly or loose due to regular use.
While dovetail drawer boxes are more expensive than melamine drawers, their longevity and utility make them a worthwhile investment for any kitchen upgrade and the simple beauty of the artisan joinery acknowledges the timeless nature of good engineering.
Where can I add dovetail drawer boxes to my kitchen?
Dovetail drawer boxes can replace any drawers currently in your cabinets. It is a straightforward process of measuring your current cabinet opening, height and depth and ordering custom drawer boxes to fit. An easy upgrade to your kitchen is to convert a standard base cabinet with doors and shelves into a pot and pan drawer stack.
A pot and pan drawer stack typically consist of two deeper drawers on the bottom, usually 11'' to 12" in height on the face, and a shallower 4" to 6″ drawer at the top. The two deep drawers are great for reorganizing pots and pans and make finding a matching lid and pot much easier than digging through standard base cabinets with shelves. The small drawer on the top usually serves as home for cutlery or as a utensil drawer for items such as spatulas and measuring cups.
Do dovetail drawer boxes improve resale value?
If you are refacing your kitchen cabinets to boost the resale value of your home consider replacing your drawer boxes as well. When prospective buyers are touring your home, they will open and close both a cabinet door and drawer to check for soft close upgrades. Upgraded cabinets doors like our selection of shaker cabinet doors and dovetail drawer boxes will impress buyers and let them know that you were mindful of both quality and utility when you upgraded your kitchen.
The Summary
Adding dovetail drawers to your refacing project provides an additional level of upgrade to your kitchen. If you're getting started on your refacing project, use our free Design Quiz to find your style, watch our How To Measure video, and at any time Talk to an Expert if you need help. A custom looking kitchen is just a few clicks away!