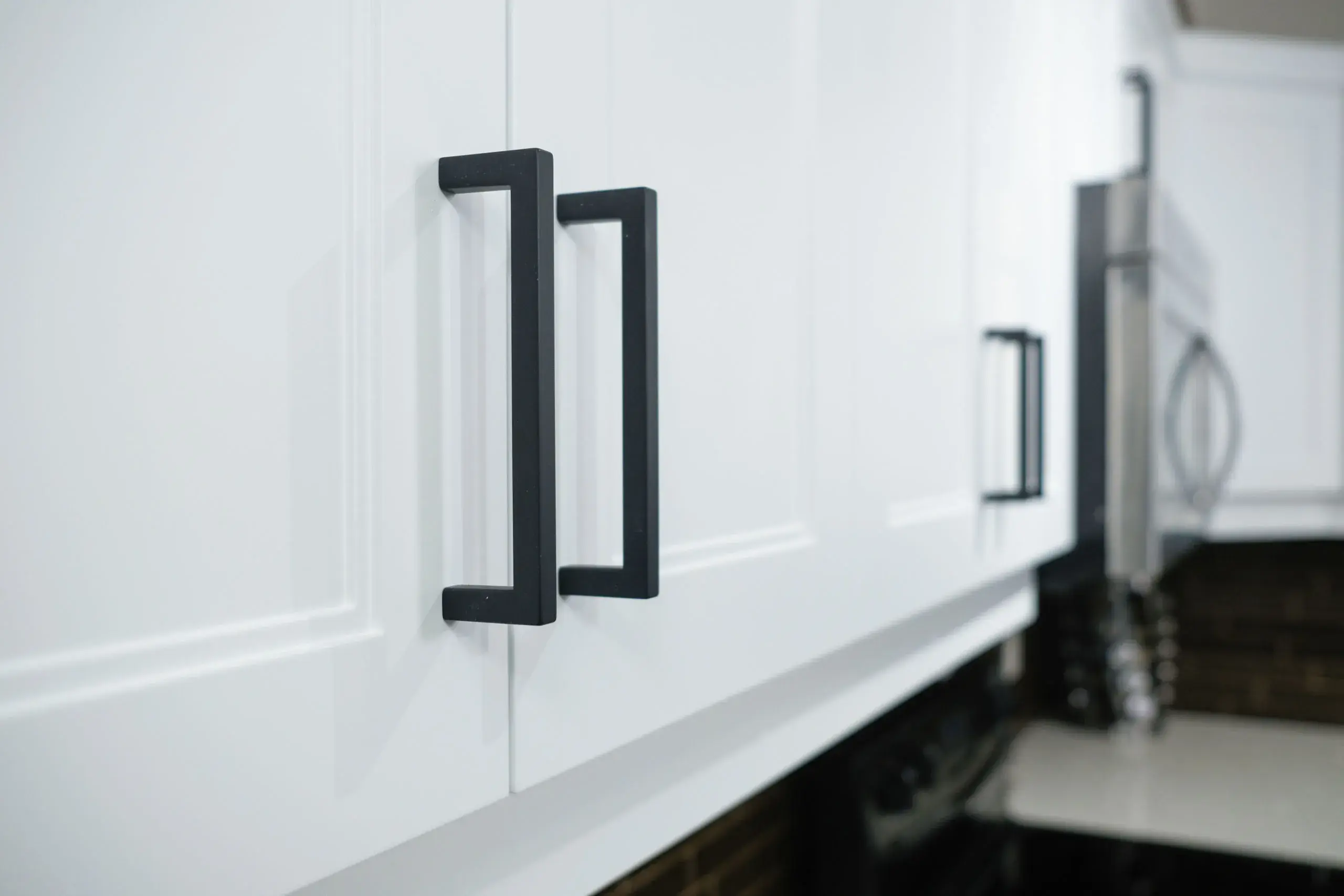 The History of Shaker Kitchen Cabinet Doors
Shaker kitchen cabinet doors still dominate kitchen design 246 years after a subset of the English Quakers emigrated to America seeking freedom of religious expression and worship. Known as the Shaking Quakers for their ecstatic and physical style of worship, the Shakers were a modest people whose core values included humility, simplicity, celibacy, hard work and equality between the sexes. Their values are reflected in the simple, utilitarian design language of their furniture and cabinetry. The basic door construction reflected their practical approach to life and the lack of ornamentation affirms their humble character as they chose instead to focus on the quality of both construction and materials used.
The Shaker community peaked at around 6000 members in the mid 1800's along the East Coast of the US and was organized into commune style settlements where the collective worked to ensure the self-sufficiency of the greater group. Along with growing their own food and making tools, furniture was needed. Their religious views and practical nature entered into their work resulting in several simple yet enduring designs that have stood the test of time.
Do you ever wonder why shaker-style tables and chairs often have tapered, light weight legs?
The Shakers, as their name may indicate, liked to dance, so their furniture was built to be light weight and easily moved aside for spiritual movements and dance. Eventually, these communities made enough furniture for their own needs and having embraced early generations of power tools and the simple construction of their furniture found they could produce enough to serve larger markets. This led to the spread of Shaker products from the tight-knit Shaker communes to the surrounding towns and villages, and beyond.
What is a shaker style cabinet door?
Shaker cabinet doors are known and loved by homeowners and designers worldwide. A shaker door is comprised of four rails and a flat center panel, which distinguishes it from a raised panel door. High quality replacement cabinet doors in a shaker style can have one of the best impacts in your home to modernize your space and remodel your kitchen.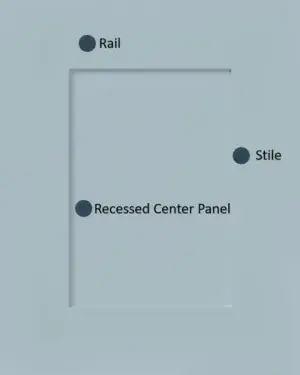 Anatomy of a Shaker Door.
Shaker Cabinet Door Design
Originally, Shaker cabinet doors were made from materials found easily in America in the 1800's such as Cherry, Oak, Birch, Pine and Maple. Shaker furniture was typically stained or painted in colors determined by the sect that made them, common colors include red, green, blue, and yellow. Symmetry of design was important and inlays or decorative mouldings were not used as such devices of design were seen as deceitful or unholy. For the Shakers, a door was beautiful due to its function in the home and because it was well made and served a purpose.
Mouldings and decorative embellishments served no purpose in a Shaker home and today designers still work in this style when designing a Shaker kitchen for your home. Many different styles of Shaker doors are available to the homeowner looking to bring some of this simple beauty into their home. Although cabinet door rail styles and widths may vary, and profiles add a bit more flair, but the basic foundation of a flat panel surrounded by four rails remains.
Today, modern shaker doors are made with new materials such as exotic woods, aluminum and glass, and American staples such as maple and oak. Engineered woods wrapped in vinyl and polyester allow for unique treatments and can add texture to a door.
Nieu Cabinet Doors - 10 Shaker Style Doors
At Nieu Cabinet Doors we have perfected the art of using high quality engineered MDF along with a 2-piece construction process to build custom cabinet doors. Our manufacturing techniques allow for the highest level of detailed finishing to produce the cleanest, most precise lines and profiles that would impress even a master Shaker cabinet maker.
With a variety of rail widths and styles Shaker doors remain our best-selling door style. Offering 10 versions of Shaker doors, Nieu Cabinet Doors has a Shaker style that is sure to work in your home. A Shaker cabinet door is ideal for a DIY kitchen refacing project as this style of door lends itself to a kitchen without fancy trim or ornate mouldings. It really can be as simple as removing your old cabinet doors and replacing them with new doors and hardware.
Do shaker cabinet doors improve resale value?
If the motivation for refacing your kitchen cabinets is resale, real estate agents will confirm that a Shaker door in a neutral color offers the broadest appeal for prospective buyers. Stick with handles or pulls that are simple and minimalist in design as they will offer the most cohesive look for your Shaker kitchen.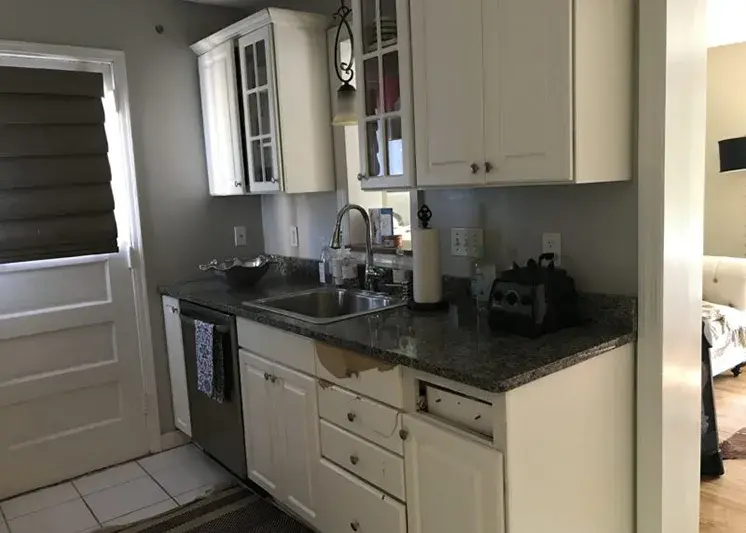 BEFORE: Broken drawer fronts and outdated raised panel doors.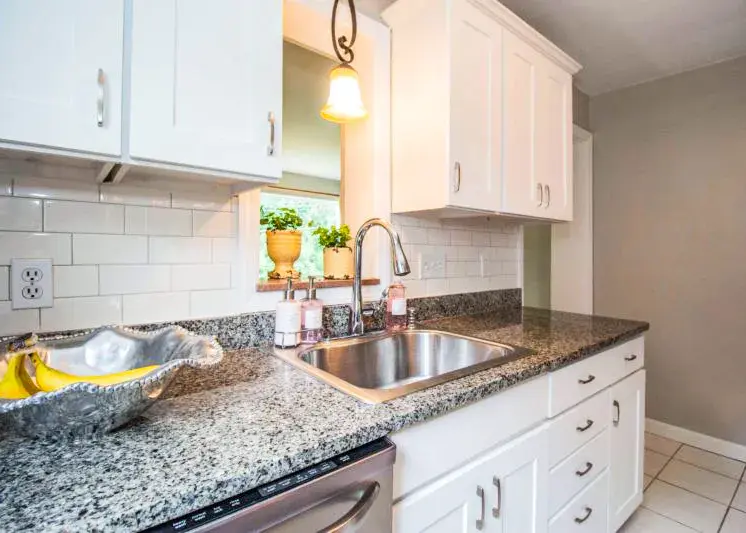 AFTER: Kitchen transformed with the Shaker door in Winter White.
"Nieu was the perfect solution for my clients. Their kitchen was in desperate need of an update to sell their home, but they didn't want the timeline or price tag of a full kitchen renovation. Nieu Cabinet Doors completely refreshed their kitchen quickly and cost effectively. The order process was simple and the customer service was great, especially being able to call and walk through any questions. Their home sold the first day of showings!"
– Laura Waxter, Realtor for Coldwell Banker
How to use shaker cabinet doors in your kitchen:
DIY kitchen cabinet refacing is a project that homeowners with even minimal carpentry skills can tackle. If your kitchen layout works, your cabinet boxes are in good shape, and you own a few basic tools, you can achieve the Shaker look for your home.
The basic steps to your DIY refacing project are:
Take our free online design quiz to determine your shaker style and color
Watch our how to videos for help with how to measure your kitchen for Nieu Shaker Doors
Use our online order form to estimate and order your Nieu Shaker Doors
Install your Nieu Shaker Doors and speak with our technical expert at any time during the install for support
When complete, raise a toast to the small group of craftspeople whose iconic design language is still relevant centuries later
The bottom line?
Shaker cabinet doors are an iconic style that have endured centuries of design changes, and remain one of the most popular cabinetry choices in homes in 2020. Whether looking to update your kitchen to love where you live, or improve your resale value, our variations of shaker cabinet doors are sure to make you dance with joy in your Nieu kitchen.