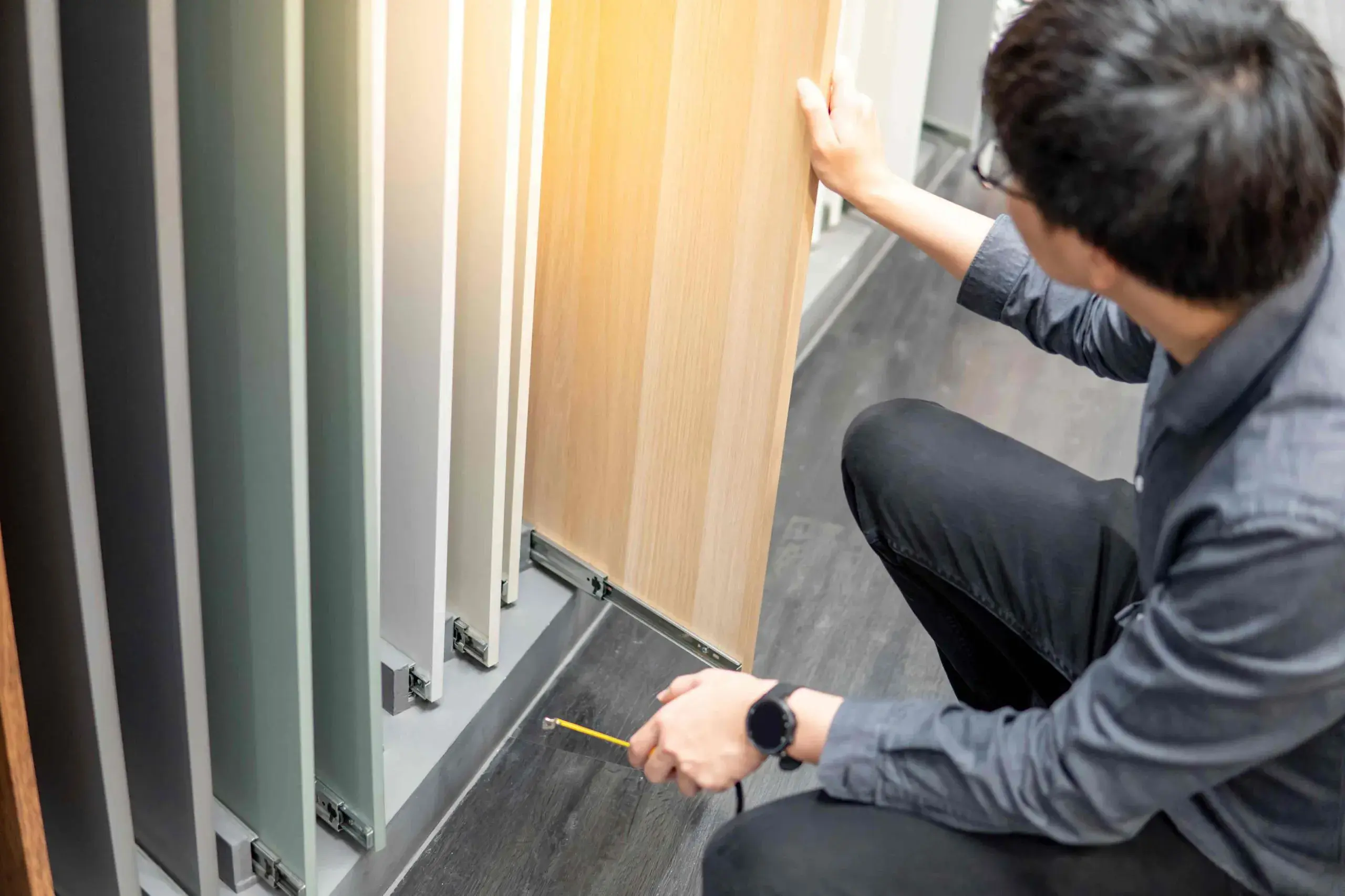 When searching for new cabinets for your kitchen, one of the big decisions you will face is around the material used for the doors. Options are a-plenty and include plywood, particle board, solid wood and MDF. Often the style that you are after will determine the materials used, as each have both unique characteristics and limitations when used for cabinet door construction.
To help debunk some myths and explain the best uses of various cabinetry materials, we've broken it down for you by material.
---
Plywood Cabinet Doors
Plywood is rarely used but can be the material of choice for some cabinet makers when constructing slab or flat panel doors. Furniture grade plywood with a hardwood veneer face layered over a softwood plywood core can produce solid slab doors. A veneer tape applied to the edges will ensure a good match to the fronts. The layered construction of plywood doesn't allow for the machining of the face so they really are only suited to slab style doors.
---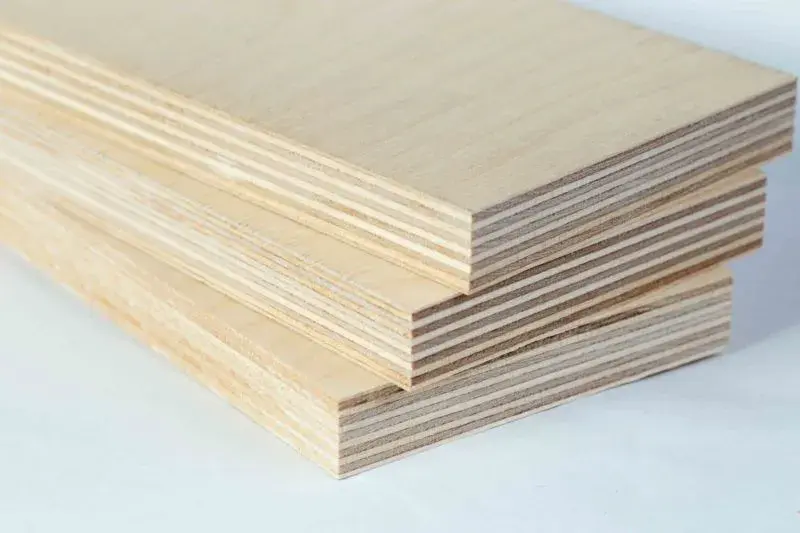 Plywood creates a strong base for building cabinet boxes, but has limits if used for cabinet doors.
---
Solid Wood Cabinet Doors
Solid hardwood doors in maple, oak or cherry are commonly used for stained doors where the natural beauty of the wood grain is both enhanced and protected by a professionally applied finish. Wood doors are strong and durable, and scratches or dents can be repaired with a little sanding and a coat of matching stain. Stained wood doors are a great choice for homeowners wanting a classic looking kitchen using a traditional design that shows off both the beauty and the sturdiness of hardwood doors.
As a painted door however, solid wood has its limitations. As durable as solid wood is, it also has a weakness of expansion and contraction when exposed to varying degrees of humidity. Just like a solid wood entry door that seems a little harder to close in the heat of summer, solid wood cabinet doors will expand in high humidity as they accept more moisture and contract in the winter as the air dries out. Since most cabinet doors are constructed using stiles and rails that frame a center panel, changes in humidity can cause the joints between the rails to shift ever so slightly as the wood expands or contracts.
On a painted door these small shifts between the joints can result in a hairline break in the painted surface resulting in a dark line at the joint. Over time as seasons pass and the wood continues to expand and contract, these breaks can lead to the paint actually chipping at the joints making for a less than perfect looking door in just a few years.
---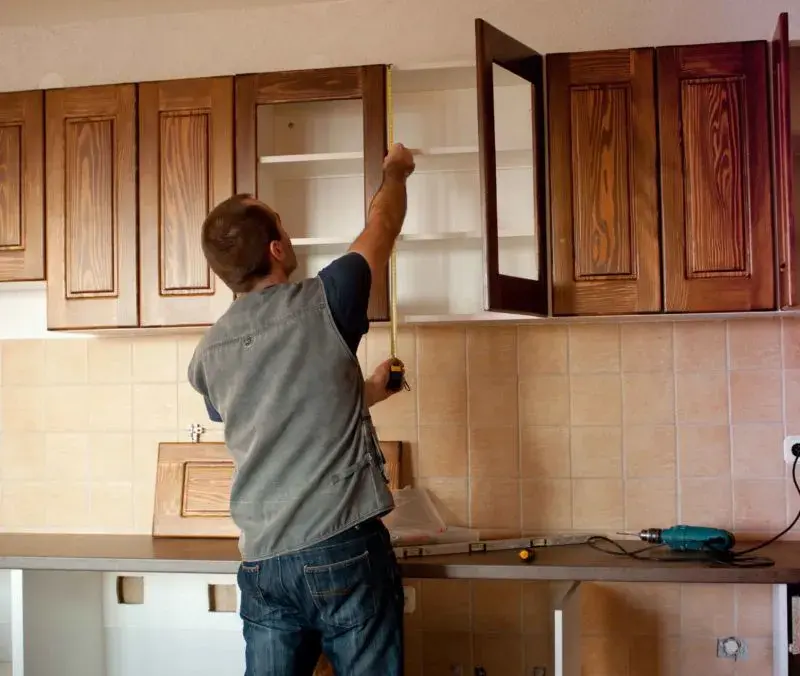 Wood cabinetry has unique variation and texture when left unpainted.
---
MDF Kitchen Cabinet Doors
MDF, or Medium Density Fiberboard, like plywood, is a manufactured wood product that combines wood fibers with resin. While plywood uses thin layers of wood sandwiched together with pressure and glue, MDF uses compressed wood fibers and glue. When manufacturing MDF, wood chips are sorted, cleaned, and fed into a defibrator that uses rotating disks to break the wood chips down to small fibers. Wax and resin are added and the fibers are then dried and become fluffy. The fluffy fibers are then arranged into mats, and compacted by heat and pressure to form the dense sheets of material available at the local building supply store.
MDF is denser than hardwood and offers a much smoother finish with no grain. This makes MDF an ideal material for making painted cabinet doors. Due to its density and consistent structure, MDF can be machined using high speed CNC cutting tools to create a variety of different 3-D profiles perfect for cabinet doors.
A two-piece shaker cabinet door constructed using MDF will consist of a single piece forming the four-sided frame and another piece used for the center panel. MDF will expand and contract although less so than hardwoods, but since the frame and the center of the door are made of the same material they move together. With a the shaker frame machined as a single piece, there are no joints to split apart like solid wood rails and stiles. The super smooth and consistent surface of MDF allows for a high-end painted finish, while solid wood doors are harder to achieve a glass like painted finish, as deep grain and knots create rough areas that paint accentuates.
---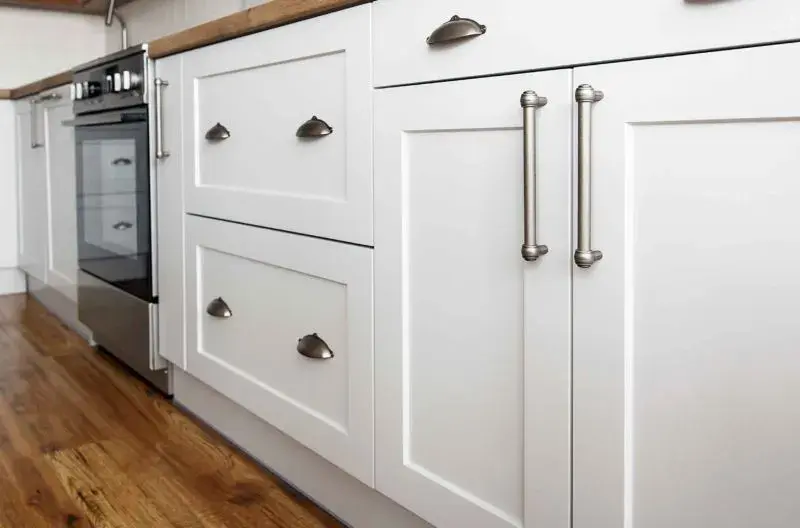 MDF can be precisely cut, sanded and painted for a glass like finish.
---
Painted Cabinet Doors
When designing your space with painted cabinetry in mind, a professional looking finish is easily achieved by using MDF cabinetry. Before tackling a large painting job, or ordering solid wood doors to paint, consider the variety of quality cabinet door styles available in MDF. If you're feeling adventurous, order them unfinished and paint them yourself!
5 Common Questions about MDF
Is MDF waterproof?
MDF as a material on it's own is not waterproof. But by painting the surface of MDF it does become highly water resistant and is recommended for use in high humidity like bathrooms and kitchens. It's also a favorite for cottages to hold strong with hot and humid summers, while staying beautiful in your lakeside retreat!
Is MDF stronger than plywood?
Plywood is stronger than MDF and for this reason plywood is the choice for floor sheeting cabinet wall construction. The cross graining of plywood makes it an ideal choice over MDF for those areas in the home where weight is applied.
Is MDF a sustainable product?
MDF is made using wood products that might otherwise be discarded – in other words it is a sustainable use of wood fiber. In most regions MDF is a recyclable product that stays out of landfills and is used for making other wood products.
Is MDF safe to work with?
When cutting or shaping any wood product dust is created that can cause nose and eye irritation and MDF is no different. Protective eye-wear, dust masks and proper ventilation are always recommend when working with any wood product.
What is the difference between one piece, two piece, or five piece MDF cabinet doors?
One piece doors are manufactured by routering out the cabinet door design from one piece of MDF. Due to the way they are made, it is more difficult to achieve precision in cutting and sanding in tight areas like corners or where the rails and stiles meet the center panels.
Two piece doors consist of a frame made from one piece of MDF, and a flat center panel inserted into the frame. This method produces doors that allow for easier finishing, are less prone to warping, and provide a more stable finished product.
Five piece doors are created with each rail and stile cut and assembled in a frame, and attached to a center panel. These doors have more seams which can result in a less stable door at the corners than a two piece door.
---
Trust MDF for your next cabinetry project!
If a custom looking painted kitchen is what you've always dreamed of, choose trusted MDF products to bring your kitchen refacing project to the next level.
---