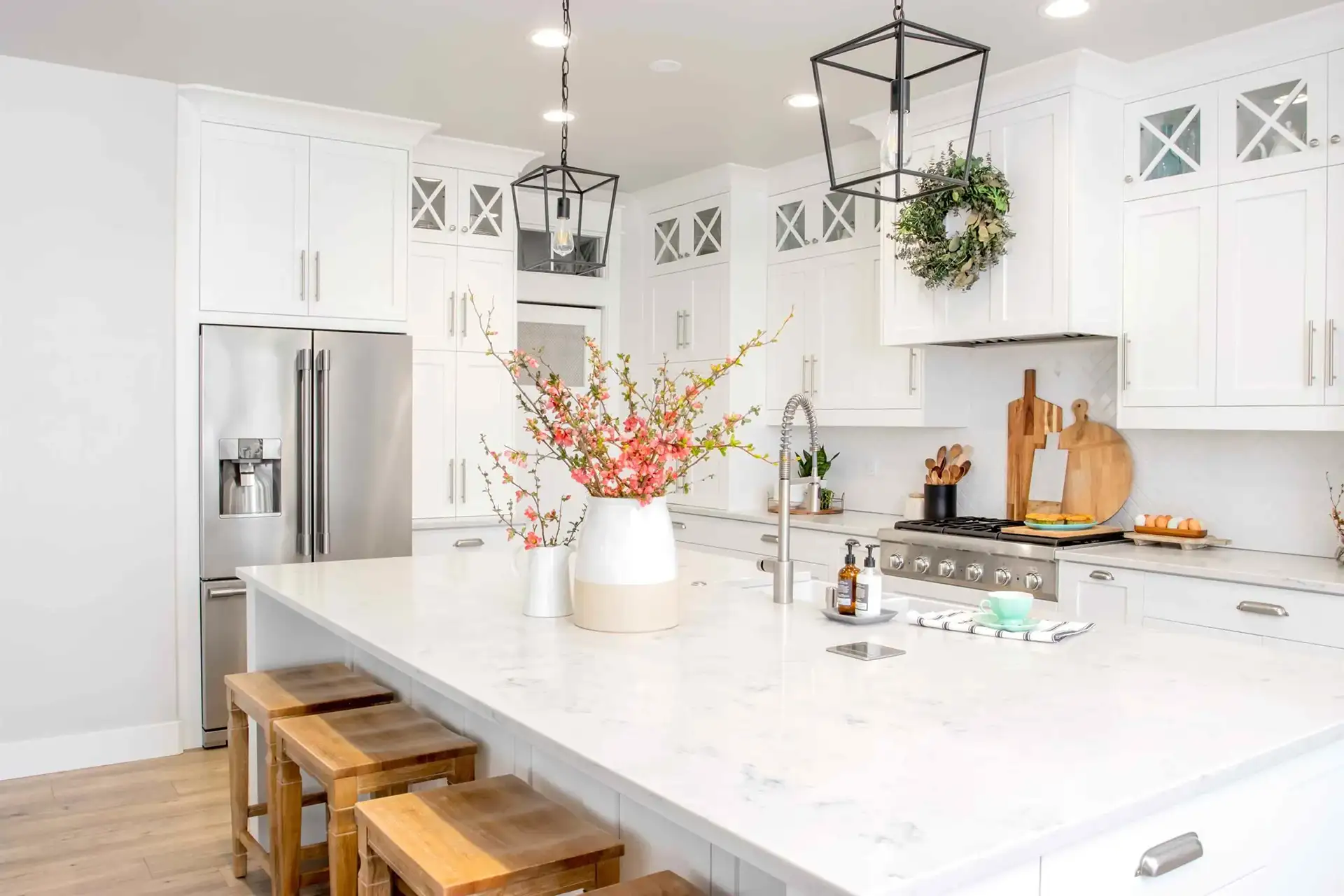 A few years ago, it seemed like all kitchens were white. There wasn't a lot of room to get creative, if being stylish was your goal. Recently that's begun to change. While white is ever popular for a clean aesthetic, and a great option for resale, kitchen design is swinging back in the direction of funky, eclectic and open-ended. You can make your cabinets different colors, install new and unique types of countertops, and explore a variety of new materials – all while following 2021 kitchen trends. If you're seeking ways to make your kitchen look beautiful this year, here's what's popular.
Natural Marble Countertops
Granite was the king of countertops for many years, because it was ultra-durable, scratch-resistant, stain-resistant and came in many patterns and colors. The tides have turned now, and homeowners seeking a new countertop have turned their sights on marble.
In all honesty, this natural stone isn't as scratch-resistant as granite – but it's possibly the most elegant stone you'll ever see in any home. It comes in a range of colors, including soft white, dove gray and some surprising hues like red, blue, green, gold. Just like granite, marble needs regular sealing to be protected from stains. Cutting boards can help protect your marble from scratches, and hot pads and trivets can prevent heat damage.
---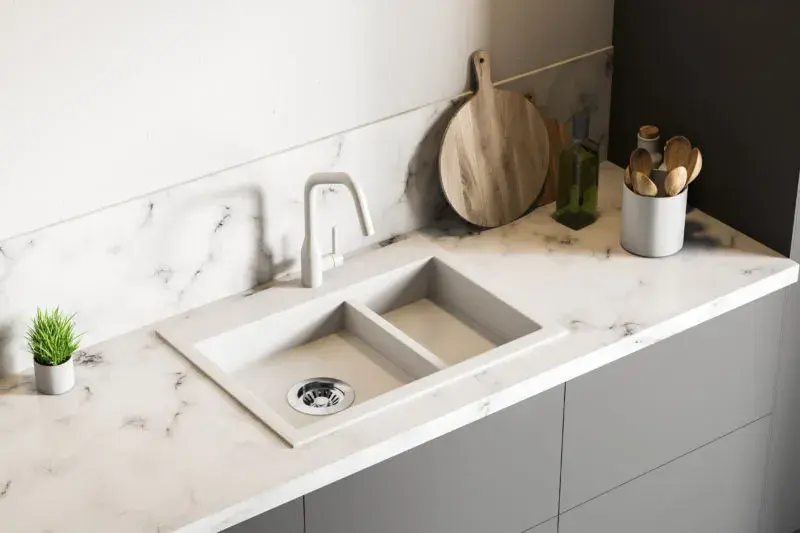 ---
Countertop Hutches
If you like the openness of floating shelves, but crave storage behind doors, you'll love countertop hutches. Fitted with glass or solid doors, countertop hutches are practical items that add classic beauty to your kitchen while creating storage space for dishes, spices, teacups or whatever you'd like to store. Add a coat of paint to your countertop hutch to make it stand out. If you're feeling extra creative, consider distressing or antiquing your piece to give it a care-worn timelessness.
Warm Tones
Cool tones were very popular for a long time. White, gray, navy and nickel/chrome finished dominated kitchens for a decade or more. Now, in 2021, warm tones are finally finding their way into kitchens around the country. Warm paint colors, warm metals and wood tones make your kitchen look and feel homey, inviting, and cheerful.
Go ahead: order your new cabinet doors in a warm creamy color. Install a brick or terracotta backsplash , and try out brass or oil rubbed bronze hardware. Your kitchen is the heart of your home, so it should look the part.
---
Slab Backsplashes
For ages, the backsplash was a tile mosaic, often an artistic and attractive, but sometimes busy and distracting part of the kitchen. This year, some of the most contemporary backsplashes are a continuation of the countertop. Is your countertop made of marble? Extend that marble countertop up the wall into the backsplash. Homeowners love this design because it makes your kitchen look a little more open, airy, and less cluttered.
Slab backsplashes are also easier to clean, with far fewer cracks and crevices, and no grout to get stained. If you've been cleaning a tile backsplash for the last several years, you'll love this change.
---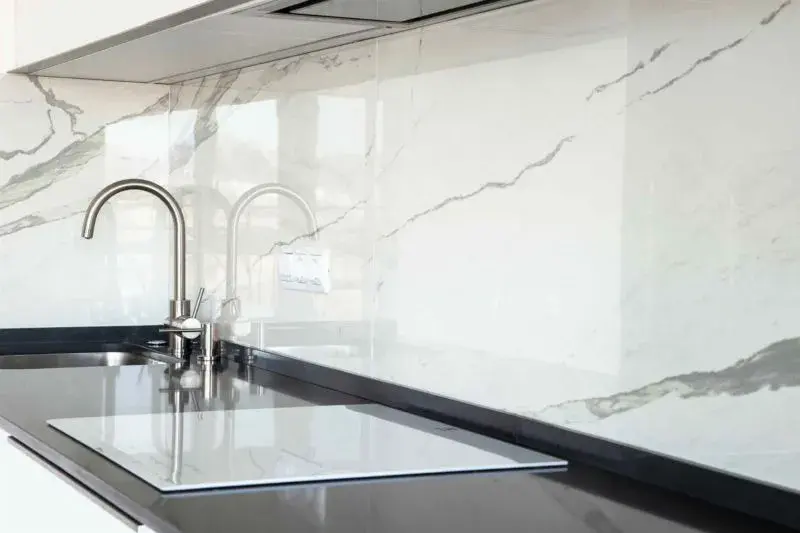 ---
Plaster Range Hoods
Plaster range hoods are a fresh look from the traditional stainless steel hood, or older microwave/hood look, and provide a fresh look and focal point in your kitchen. Often nestled between floating shelves or as a standalone accent surrounded by dramatic backsplash, plaster hoods contain the range hood extraction unit, but are surrounded by drywall and typically finished with joint compound, Roman clay, paint, or limewash.
DIYers are turning to plaster range hoods as a fun project in their kitchen remodel. By following these simple steps you can transform the look of your kitchen from simple and functional to modern and custom!
---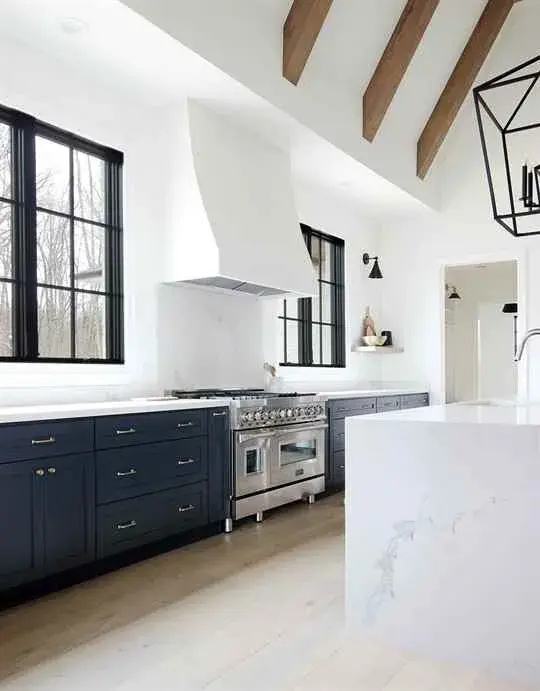 ---
Gold Finishes and Mixed Metals
Gold and warm metal finishes are very popular right now, in part because they match the wood tones and warm colored cabinetry popping up in renovations. Mixed metals are also popular, with copper tones, brushed brass and oil rubbed bronze all taking a front-row seat in kitchens.
Faucets aren't the only fixtures to consider for these interesting and beautiful metals. Everything from cabinet knobs and pulls, to light fixtures and range hoods come in metals of different colors. If you're feeling brave, take this opportunity to mix and match.
---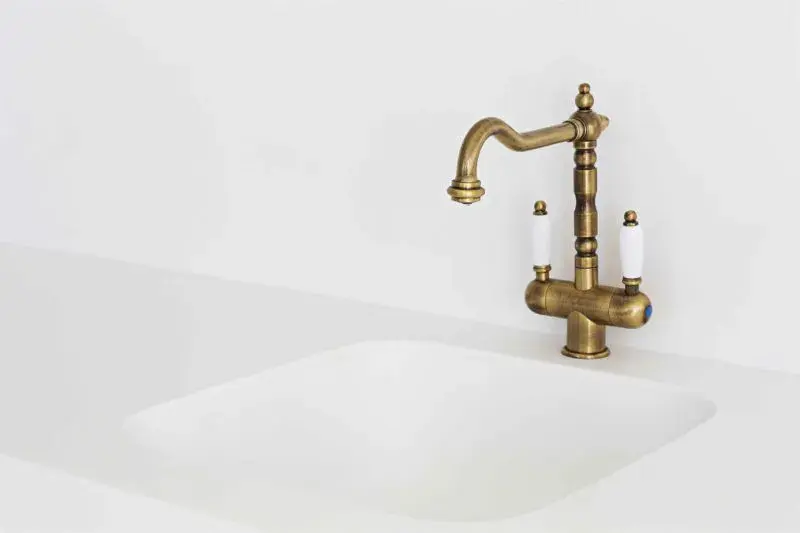 ---
Loosen Up and Enjoy Yourself.
If there's one thing you can take away from this article, it's that you can have fun designing your kitchen. Let your hair down, figuratively speaking. Fill your room with interesting new colors and materials and patterns. Don't be afraid to try something different, and break out from the styles of previous years. This is your chance to make your kitchen eye-catching, beautiful, and wholly different from its previous existence.