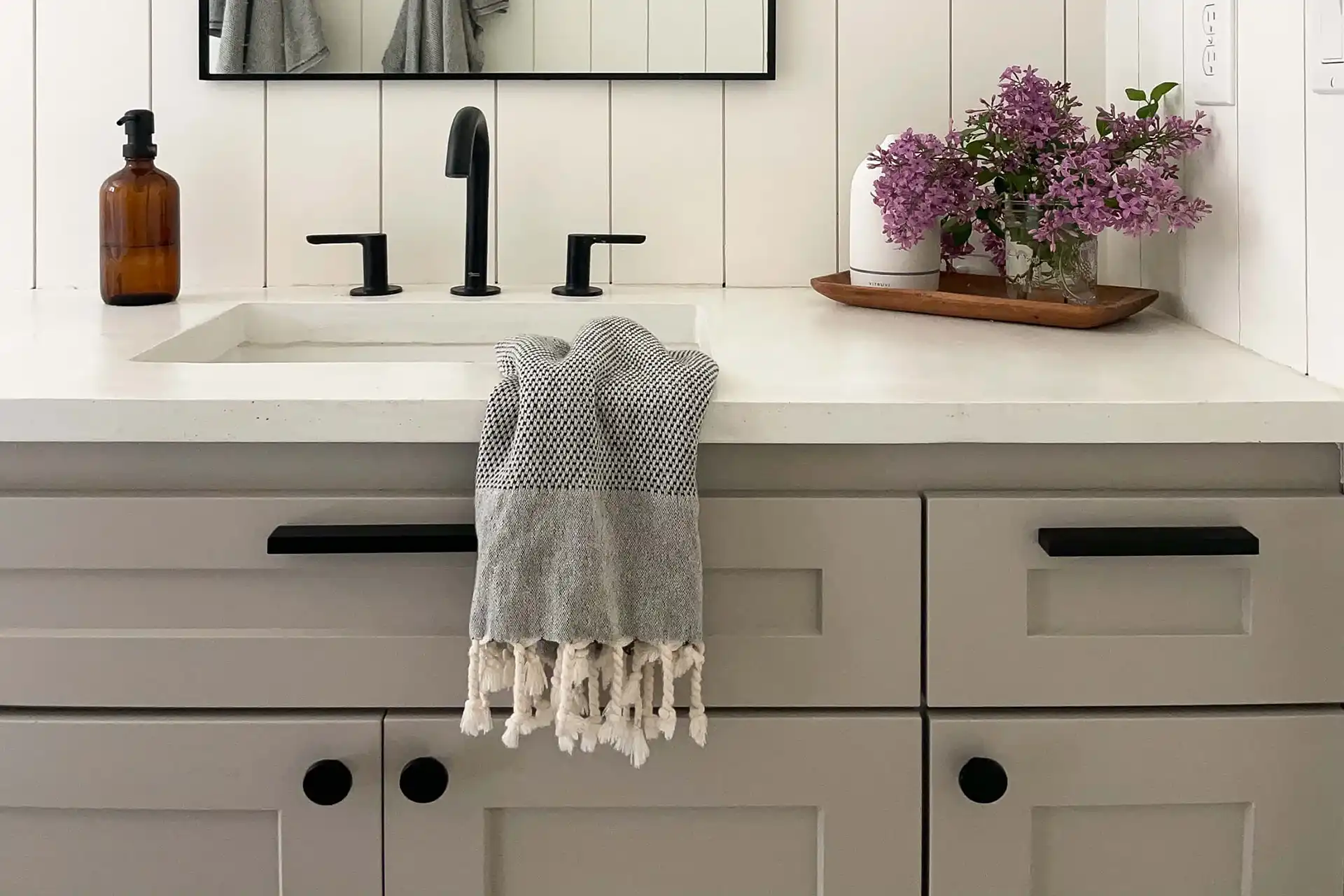 Beyond kitchens, bathrooms are an area of the home that we spend more time in than we might realize. Creating a relaxing retreat in your bathroom can provide a place to unwind and reset, and is also something that helps your home value when selling!
Bathroom makeovers can get expensive, and quickly if the whole room is being updated. From flooring to showers and tubs, vanities and accessories, doing a bathroom refresh on a budget might seem impossible.
This featured makeover by @allthingsnew_home walks through how a dated 90's oak vanity was given new life with fresh cabinet doors, drawer boxes and faces – without ever replacing the vanity unit itself!
Before: Dated 1990s Oak Vanity
The "before" vanity was dated oak with exposed hinges, partial overlay doors, and drawer boxes that had passed their prime – becoming difficult to open with daily use. A refresh as part of the One Room Challenge made it like-new.
"We had a very tired 90's bathroom vanity that needed everything from new drawer boxes, hinges, and doors."
@allthingsnew_home
---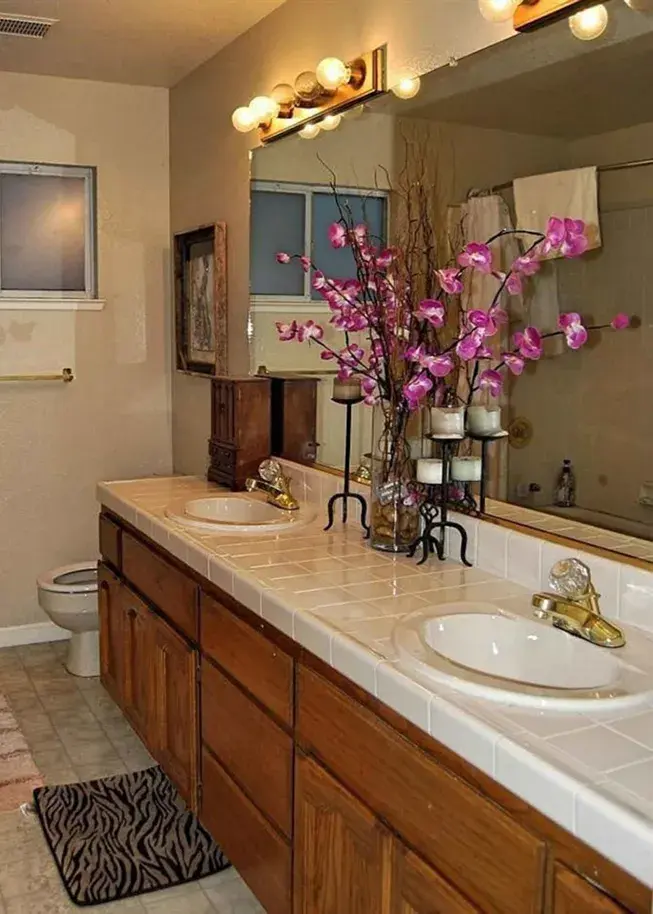 ---
Vanity Makeover on a Budget
The old cabinet doors, drawer faces and drawer boxes were removed, and the vanity was measured for full overlay cabinet doors, and new drawer boxes and faces.
With other updates happening in the bathroom to bring it up to date – the door style chosen was our Shallow Shaker in Totally Taupe to create a neutral contrast colour with the soft palette in the room.
While waiting for their custom cabinet doors and drawers to arrive, the vanity was given a fresh coat of paint to match the new doors – using the matching paint colour to the doors. In this case, Sherwin Williams Requisite Grey was applied to the face frames, toekick and side panels for one cohesive look once doors arrived.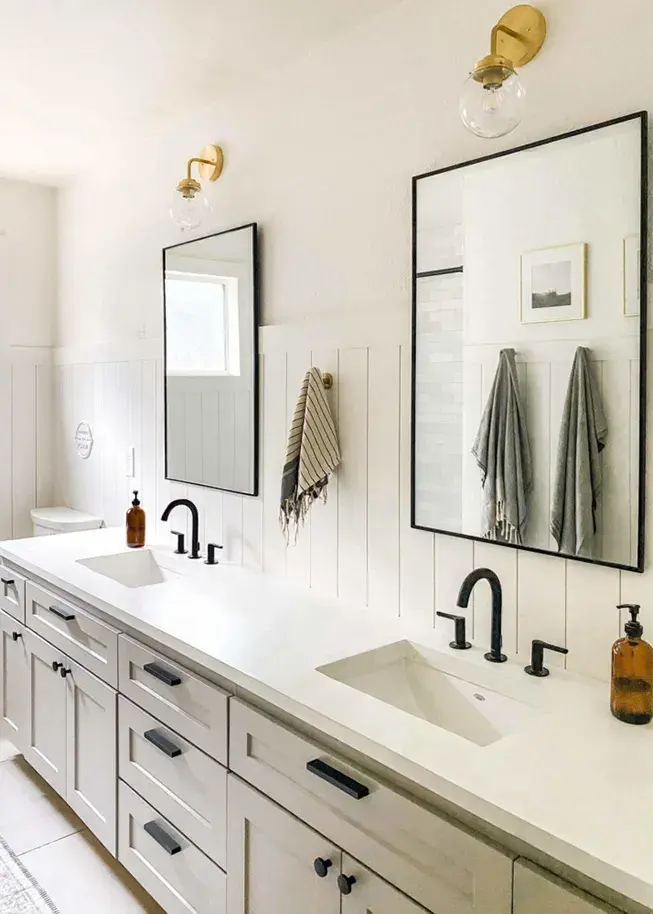 ---
Install of Custom Vanity Cabinet Doors
In as little as an afternoon, new doors and soft close hinges were mounted to the made-over vanity, and drawer boxes and glides installed.
---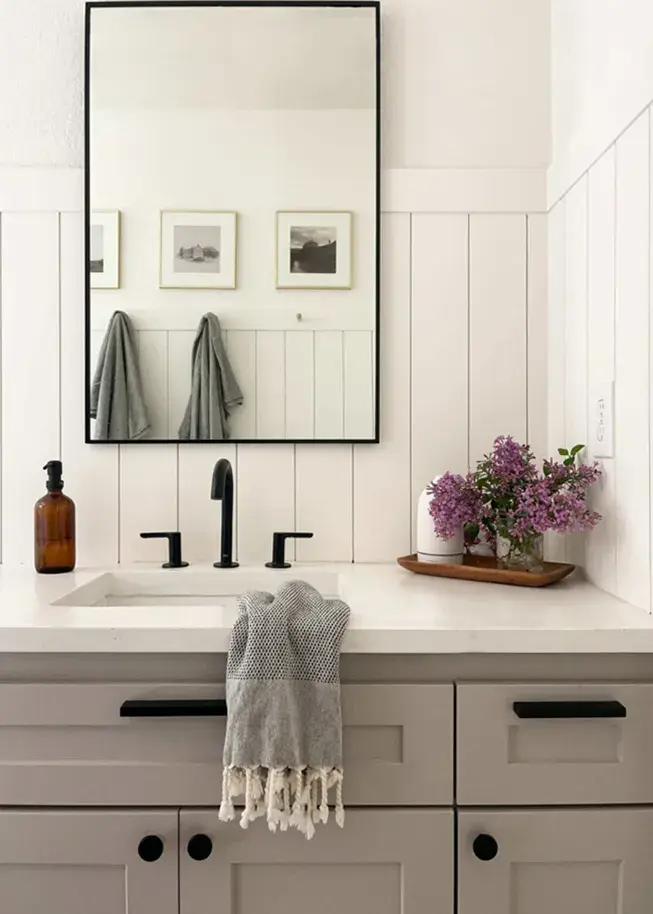 "The new drawer boxes they offer are a high quality and we love how the modern design of the doors really transformed our previously outdated vanity. I highly recommend Nieu Cabinet Doors, and will for sure be using them again for my next projects!"
@allthingsnew_home
---
Tackling Your DIY Vanity Refresh
Bathroom vanities are a great, small project to try as a first time or seasoned DIYer! In a matter of a few short hours for small vanities, you can make a significant update to the space, without needing plumbers, demo, or hiring out the project.
By saving big with a DIY bathroom vanity project, you can spend any leftover renovation budget on a new mirror, faucets, or accessories to update the space.
If your old oak vanity is looking for a makeover, why not try your hand at a quick refacing project? You might surprise yourself with its simplicity – and can tackle a larger project with ease.
---