IKEA Kitchen Cabinet Doors
For a project that looks like custom cabinetry (without the price tag), select IKEA cabinet frames paired with Nieu doors. Use affordable and durable cabinet boxes, and purchase custom fronts, side panels, trim and accessories for a custom design that won't break the bank.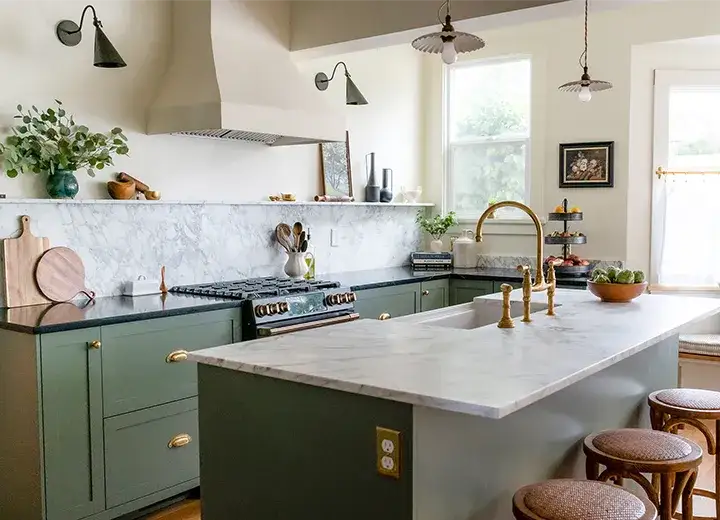 Compatible Across IKEA Cabinet Systems
For projects from kitchens to wardrobes and media units, we've got you covered.

Pair Sektion boxes with custom fronts for a custom kitchen at a budget friendly price.

Reface IKEA's legacy kitchen cabinet line with designer curated styles and colours.

For the custom closet of your dreams, pair Pax wardrobes with Nieu fronts.

Dress up living room storage and media units with doors for Besta cabinets.
Customize IKEA Cabinets in 3 Easy Steps
Plan
Use the IKEA planning tools to design your dream kitchen from the ground up. Once you're happy with your design, get in touch with us!
Consult
Work with our product specialists (at no cost) to create your quote for custom fronts from Nieu. We can help with any custom sized pieces and offer guidance for your IKEA hack!
Order
Place your order, and relax! We'll craft your custom cabinet doors for your IKEA cabinets, and ship them right to your door, ready to install.
Helpful Resources
Our curated tools will help you tackle your next project with confidence.

Take the Quiz
Find your style with our interactive design quiz

Download the Nieu Guide
Download our Guide to Cabinet Refacing

Learn How To
No experience? No problem! Learn from step by step videos and tutorials.
I had a wonderful experience using Nieu! From the start, the sample box is extremely helpful and I recommend ordering that. They were very organized and it was easy to schedule remote meetings to review my design, and get the order perfect! I installed it myself, and the Tech support and online videos were extremely helpful. They were quick to get back to me! I love my new kitchen, and recommend Nieu + IKEA Cabinets to anyone wanting to remodel their kitchen!

We used Nieu for our recent cottage kitchen renovation and are thrilled with the result! The combination of using Nieu's high quality doors with the internal accessories from IKEA gave us the customization we were looking for and a quality finish and style at a fraction of the cost of custom cabinets.

I used Nieu Cabinet Doors for the kitchen and pantry of a gut renovation I completed on a 1,700 square foot apartment on the Upper Westside of New York City. I can't tell you how many compliments I've gotten. No one can believe it's an IKEA kitchen; everyone is convinced that it's custom.