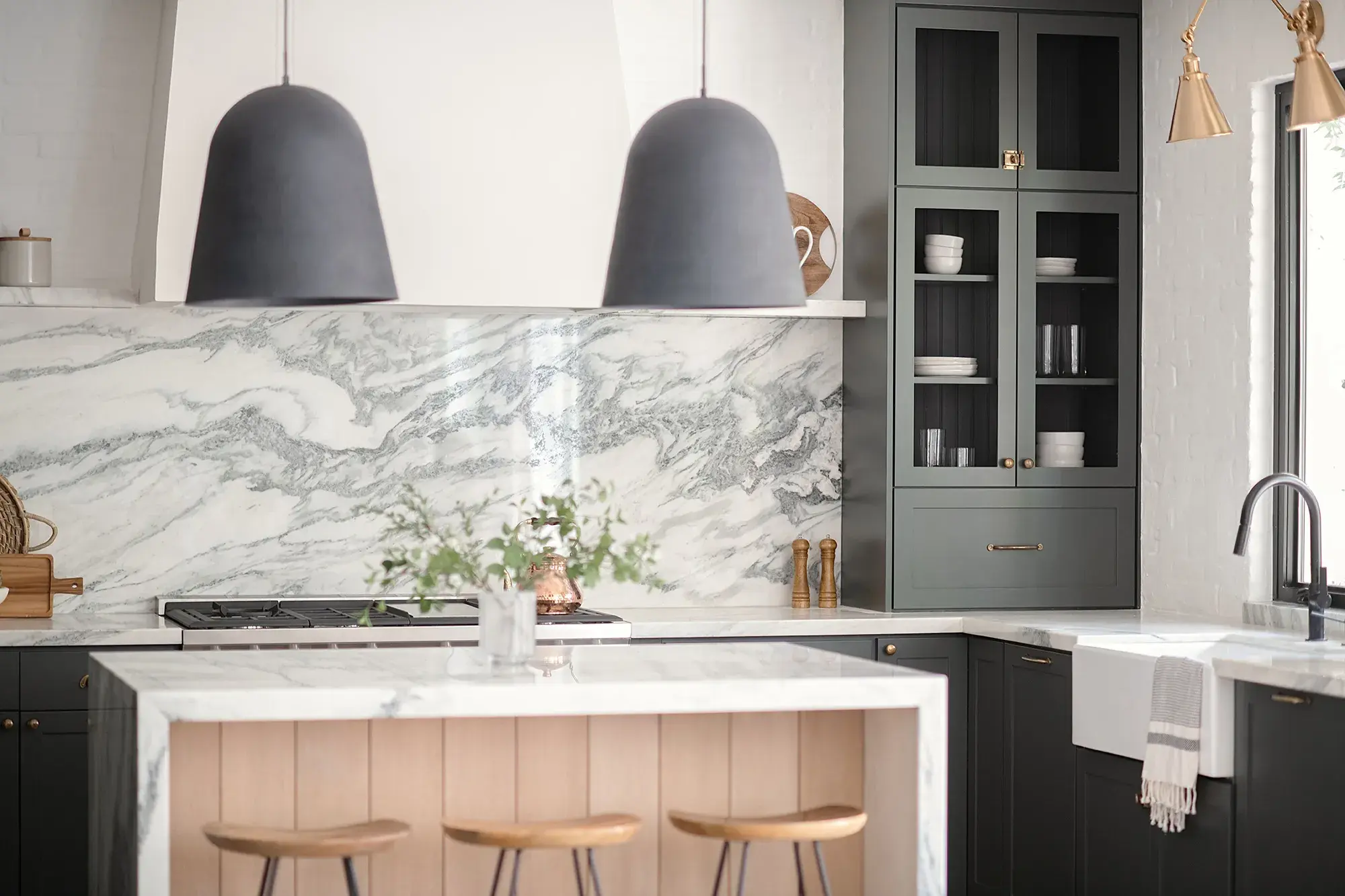 A kitchen remodel can get expensive! Many homeowners spend tens of thousands of dollars on their kitchen remodel just to make basic changes. If you're on a tight renovation budget and want to get the most out of your remodel, it's important to know where to save vs. splurge.
By spending money on big-ticket items, and saving money where it doesn't need to be spent, you can get the most bang for your buck – and the highest ROI if you decide to sell your house. Here's what you need to know.
---
Save on Cabinet Boxes
Semi custom cabinets can cost as much as $650 per linear foot. That kind of cost could break your kitchen renovation budget quickly. Fortunately, you can save money by purchasing budget kitchen cabinets from a supplier like IKEA. The less you spend on the cabinet boxes, the more you'll have to spend on the custom cabinet fronts.
Don't want to buy new cabinet boxes at all? Use the existing cabinets in your kitchen, but remove the doors from your lower and upper cabinets. Old cabinetry often has perfectly good cabinet boxes and can be made-over with new doors or paint.
Splurge on Custom Fronts
By installing new custom fronts on your cabinetry boxes, you can achieve the look of custom cabinetry and save a lot of money at the same time. High quality fronts can make your cabinets look brand-new and high-end. Work with a custom cabinet door supplier to purchase cabinet doors that you'll love for years to come.
---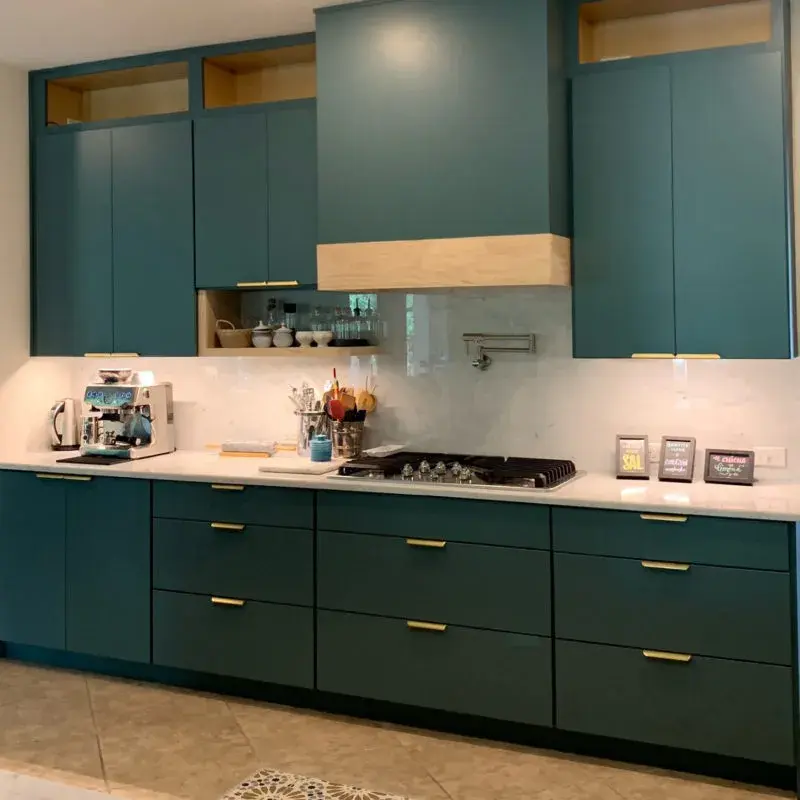 Scandia doors in Sweetly Sage took this kitchen from dated to contemporary.
---
Save on Painting (Do it DIY!)
Painting your walls and cabinets yourself is one way that you can reduce the cost of your kitchen remodel without sacrificing value. Apply a fresh coat to your walls and new paint to your cabinets to make them stand out!
Remember to use a semi gloss paint on your kitchen walls to make them easy to clean – and semi gloss or glossy on the ceilings. Newly painted cabinets look great, but over time, paint can chip if the paint isn't applied correctly. Be sure to prep the cabinet surfaces to ensure that the paint is long-lasting and durable.
Splurge on Stainless Steel Appliances
New appliances like the dishwasher, refrigerator and stove are all important parts of the kitchen. For high efficiency and longevity, buy high-quality appliances. Look for the ENERGY STAR rating before making a purchase.
Stainless steel appliances are popular with home buyers right now, so if you're planning to sell your home soon, leave room in your renovation budget for attractive appliances that will make your kitchen stand out.
Save by Using Existing Layout
Homeowners spend a lot of money updating their kitchen designs. Moving appliances and plumbing from one location to another requires invasive changes that can cost a lot of money. Unless you're seeking a perfect work triangle or a brand-new kitchen design, you can save money and reduce cost by using your existing layout.
Leaving your existing cabinets, kitchen island and appliances where they are, you can potentially save thousands of dollars. If you're seeking a more efficient kitchen triangle, talk to your contractor about smaller changes to improve your efficiency, like swapping appliance locations within your existing layout.
Splurge on Quartz Countertops
For many homeowners, installing new countertops is one of the best parts of the kitchen remodel. While granite countertops and marble countertops are popular for their natural properties, quartz countertops are the new king of the kitchen.
These low-maintenance countertops are designed to last. Unlike other types of stone like granite and marble countertops, they require no sealing. They're naturally stain-resistant and need only to be cleaned regularly in order to look and perform their best. If you hope to entertain guests after your new kitchen renovation, quartz countertops will make you proud to host guests in your home.
---
Anika of Anika's DIY Life explains steps to properly prep your cabinetry for long lasting paint results.
---
Know Where to Save Vs. Splurge on Your Kitchen Remodeling Ideas? Get Started Today
Your kitchen makeover doesn't need to break your budget. Get started on your kitchen remodel with low cost, high impact changes. Remove some upper cabinets for decorative shelving to make your space feel larger, or buy new fronts for outdated cabinets.
Stay tuned for future renovation and decorating ideas to help create your dream home.
---
IKEA is a registered trademark of Inter-IKEA Systems B.V. and is not affiliated with Nieu Cabinet Doors.