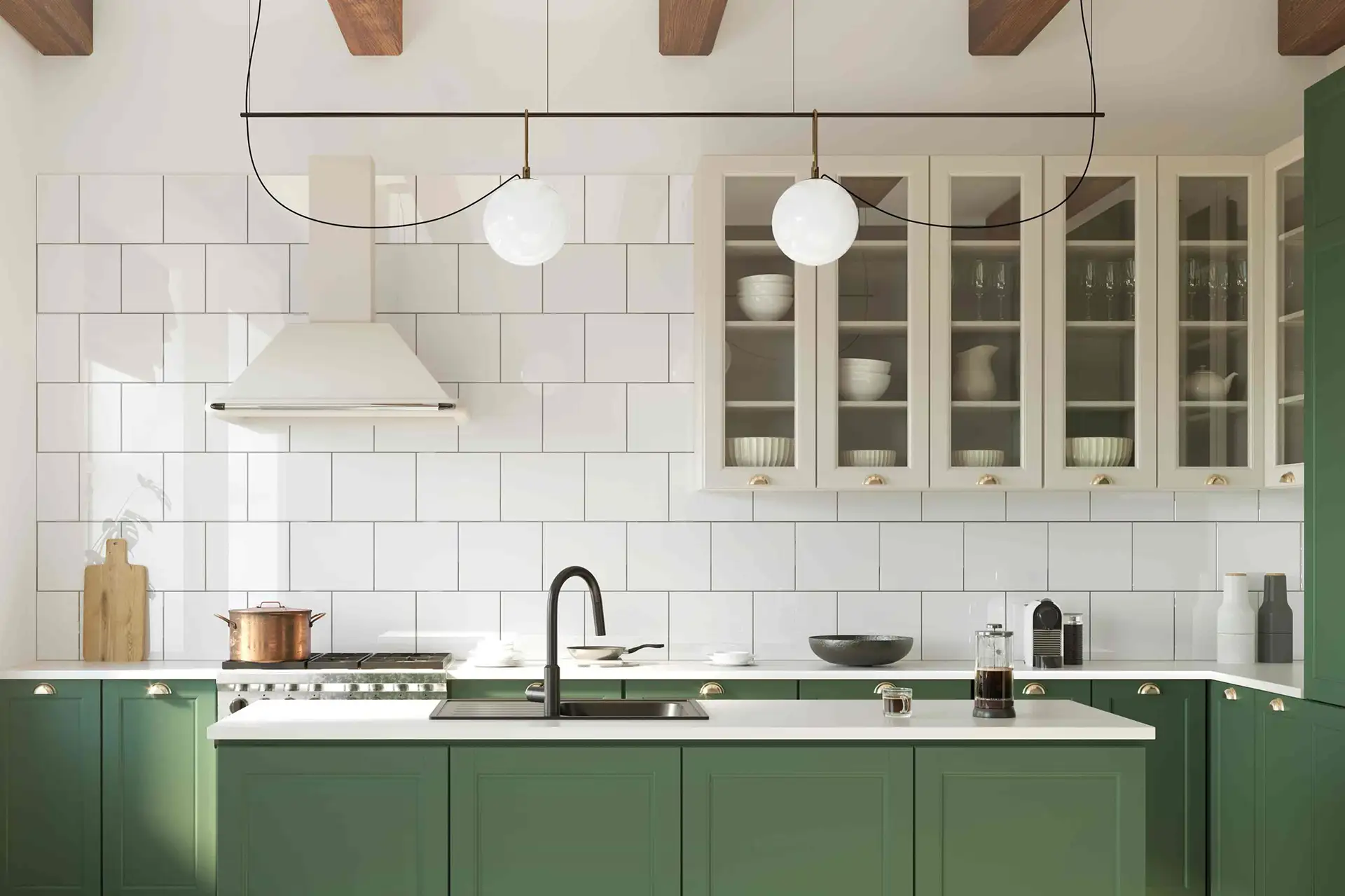 Many people want a kitchen straight out of HGTV magazine. But the reality? A kitchen demo and remodel can cost tens of thousands of dollars, and the time and budget constraints are out of reach for many North Americans. But – there's good news! You don't have to give up on your dream kitchen, or wait till retirement to finally tackle that new look.
By utilizing IKEA cabinet bases for an easy to install, affordable cabinet base, and customizing the exteriors, you can create your own IKEA hack kitchen that costs a fraction of what you see on TV! IKEA's kitchen system allows you to order their products modularly – so you can get the cabinet bones from IKEA, and customize the exteriors, and some interior accessories to suit your needs.
---
Upgrade from melamine to wooden dovetail drawer boxes
When ordering your IKEA cabinets, for a custom look that extends beyond your cabinet exteriors – swap your IKEA melamine drawers for custom sized, wooden dovetail drawer boxes and full extension, soft closing drawer slides. The craftsmanship of dovetail joinery and flexibility of custom sizes makes your kitchen chef-worthy kitchen in design and functionality.
For a thoughtfully designed space, consider keeping drawer sizing consistent on adjacent sections of cabinets. Areas like pot and pan stacks and dishware are natural drawers to group together for size and ease of storage. Keeping the lines in a space consistent will make your space feel streamlined and can make smaller kitchens feel larger by avoiding visual distraction.
To upgrade your drawers – remove your drawer boxes from the IKEA planner. IKEA drawers are named either UTRUSTA or MAXIMERA depending on the style you've selected at IKEA. Consider the size of drawer faces you'd like when ordering your custom drawer boxes. The height of drawer faces will inform the corresponding drawer box that pairs with it.
Following these instructions, your custom drawers are just a few clicks away.
Use decorative panels for end gables
IKEA cabinets require cover panels for exposed sides of base or upper cabinets, and the sides and backs of peninsulas or islands. Customizing the look of panels by using a faux door (also known as a gable) to create a focal point is the extra step in creating a custom look in your IKEA kitchen.
Sizing and ordering these panels is a straightforward process of measuring the required width and height, considering if the panels will sit flush with or proud to the cabinet doors. To order decorative panels to match your cabinet doors, simply order the required size as a door without hinge boring. These decorative panels are mounted from the inside of the cabinet so that no screws are visible from the exterior for a seamless finish.
Trim out your island or peninsula
Much like end panels, using decorative gables on an island creates an attractive centrepiece for cooking, dining, or entertaining.
For oversized islands (greater than 48" wide), consider decorative panels in 24" widths for the look of custom millwork. Wrapping the panels onto the sides of the island is a trendy look that lets your island take centre stage. For a more minimalist island, consider using flat side panels and leaving the decorative look for only the front and back.
---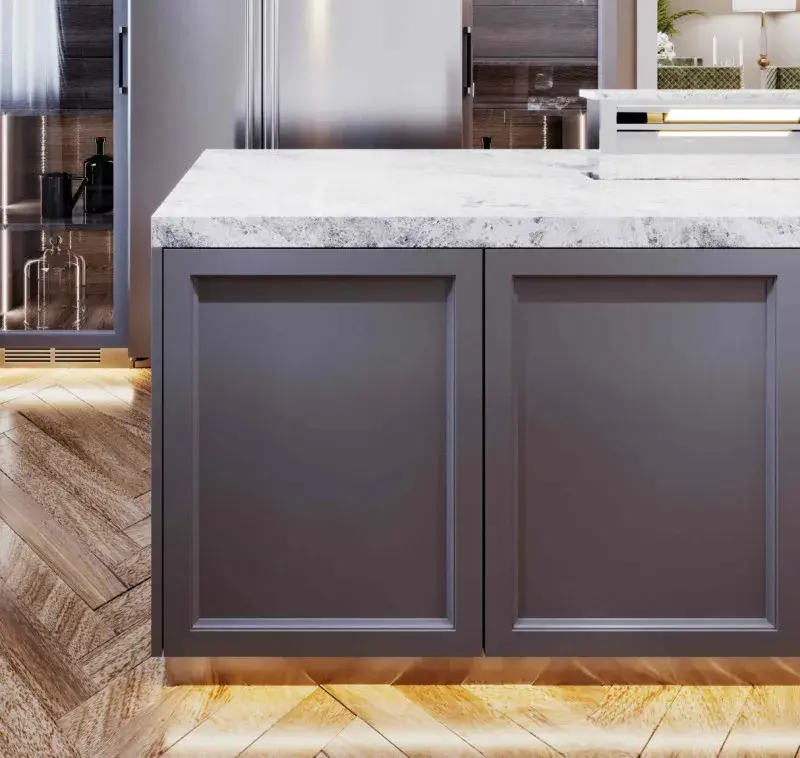 Adding gables to an island create a focal point in your kitchen.
---
Add decorative trim or molding to upper cabinets
Tired of dusting on top of cabinets, or have an awkward bulkhead you're hoping to disguise? Trim work and moulding will be your best friend to hide these areas and make your space feel intentional.
Custom trim pieces can be ordered to fill gaps between the tops of upper cabinets and the ceiling, while decostrip or under cabinet light valence provides a finishing touch to your design.
Incorporate floating shelves to your IKEA design
Custom kitchens typically use a balance of upper cabinets and floating shelves to combine storage needs with opportunities to display decorative items and break up large runs of cabinets. Consider where you can remove one or two cabinets and opt for custom floating shelves to match your cabinet doors.
Common locations to incorporate floating shelves are around windows, on either side of a kitchen sink or range, or in a pantry to store jars full of baking supplies.
While you can't easily design shelves in the IKEA planner, simply leave blank wall spaces in the floorplan. When placing your custom door order, be sure to select the appropriate shelf depth, and custom length to suit your needs.
---
IKEA hack your kitchen with a custom door style and colour
The beauty of an IKEA hack kitchen is making it completely custom in style and colour. When choosing the door style and colour combination that's right for you – consider door styles different than those that are available at big box stores. Choose from our variations of shaker doors, a style like our Skinny shaker for a modern look, or our Framed shaker for a more traditional kitchen design.
Our hand-picked paint palette is curated from the top Sherwin Williams paint colours for cabinetry. Don't see something you like? Just reach out, we're happy to complete custom colour job for just a small additional fee. Simply send us the Sherwin Williams paint name and colour code, and your cabinet doors will be painted custom, just for you.
---
---
Your IKEA hack awaits!
With a few simple customizations, your IKEA kitchen can become uniquely yours, at a price point well within your reno budget. You might be surprised that you can remodel your kitchen, and take a vacation next year!
---
IKEA is a registered trademark of Inter-IKEA Systems B.V. and is not affiliated with Nieu Cabinet Doors.