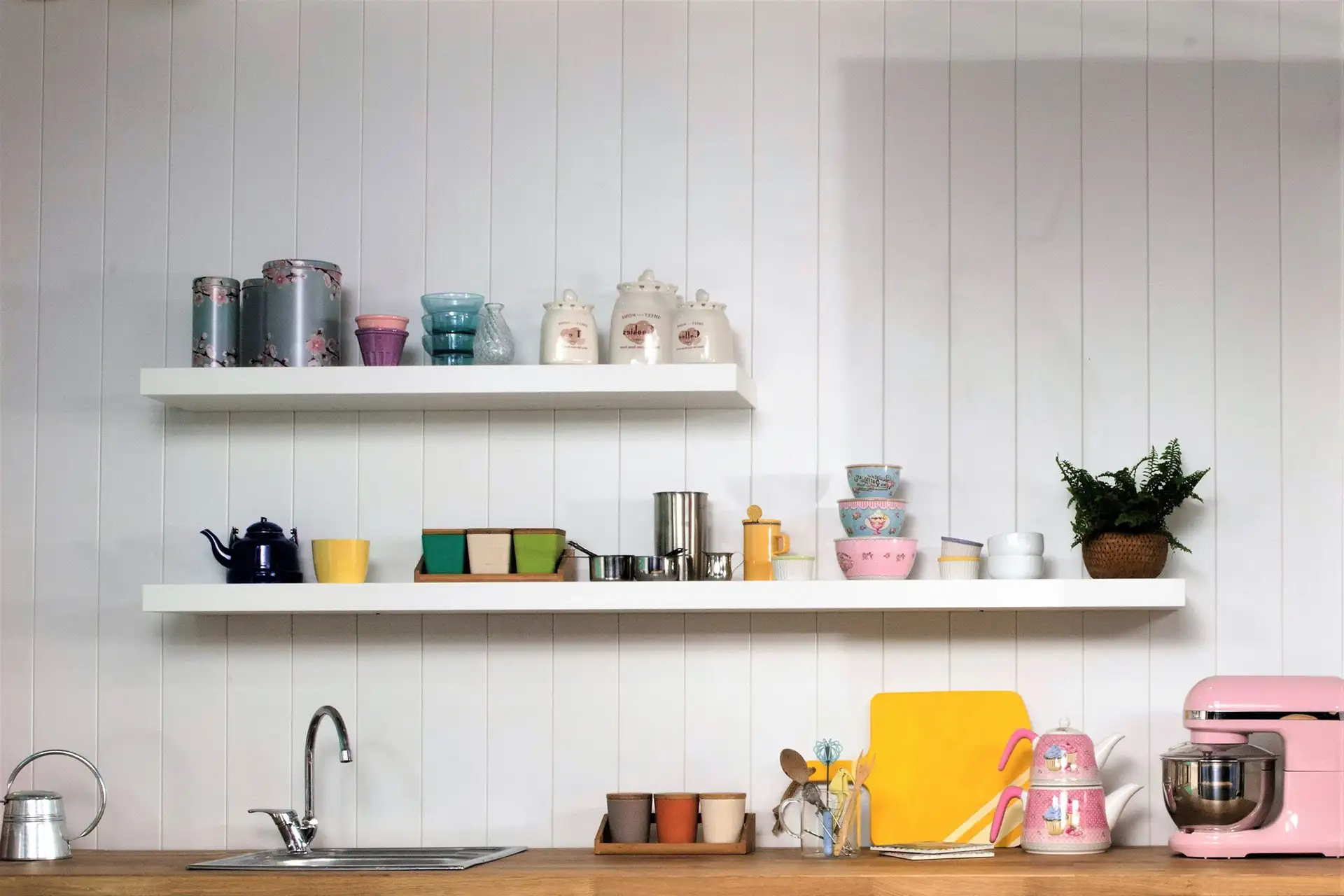 In recent years, kitchen designs have shifted from the dark and enclosed interiors of the 1970's, 80's and 90's to a preference for open, airy spaces. Features that convey a sense of spaciousness and minimalism are valued in contemporary kitchens, and nothing delivers that quality like floating kitchen shelves.
Floating kitchen shelves deliver functionality, beauty and a little magic all in one. They create the perfect surface where you can stash a plant, store a bottle of wine or display a beautiful platter. If you've spent the last several years admiring kitchens with open shelves, just wishing you had one in your house, then there's no doubt you'll love having a floating shelf in your home.
Benefits of Floating Shelves

Floating shelves achieve a lot with very little. With no visible brackets or hardware, floating shelves are lines on the wall, blank surfaces just waiting for an object to hold. Tabula rasa.
The simplicity of floating shelves allows your decor to stand out and create accents in your home.
Clean architectural lines. Custom floating shelves are made of thick, sturdy slabs, primed or painted in the colour of your choice, to create attractive fixtures on your walls.
Display favourite kitchen items. DIY floating shelves put your favourite dishes and kitchen tools on display. They also make a handy spot to place frequently used items like wine glasses or coffee mugs.
Take up less space. With no visible brackets on your walls, there's no minimum distance between your floating shelves – you pick the arrangement that works best for you.
Strength. They might look like they're floating by magic, but they're held in place by strong hidden brackets and anchors that can easily support a variety of standard kitchen items.
Light and airy. Floating shelves project a sense of mystical lightness, which easily makes your kitchen seem open, airy and spacious.
Wondering about the applications of floating shelves? We're bursting with ideas.
---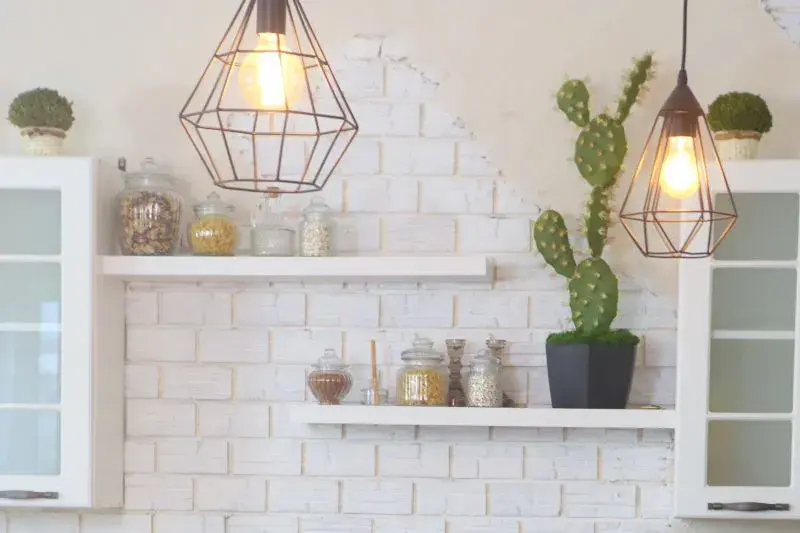 ---
Floating Shelf Ideas to Enhance Your Home
If your kitchen is dated/old fashioned: Remove old upper cabinets and install floating shelves to add a contemporary flair to your kitchen.
If your kitchen is really small: Install floating shelves up high to add a sense of height to your kitchen.
If your walls are bare: Choose floating shelves in a contrasting colour, and install them in an spot that lacks visual interest and beauty. Fill the shelves with items you love to look at. Consider buying dishes specifically for your shelves: dishes that either match, or stand out distinctly!
---
Where can floating shelves be installed?
White and painted floating shelves make an outstanding addition to just about any room of the house. In the bathroom, they provide a surface for bottles of lotion, wash cloths and candles. In the living room, your white floating shelves can hold framed pictures, keepsakes, fresh flowers.
Install a series of floating shelves in your bedroom or home office to create a make-shift, open-sided bookcase. Use attractive, creative book ends to hold books in place.
Some tips:
Be deliberate when choosing items for your floating shelves.
Leave empty room on your shelves to enhance their clean, simple beauty.
Set attractive baskets on your floating shelves to contain mess and hide clutter.
---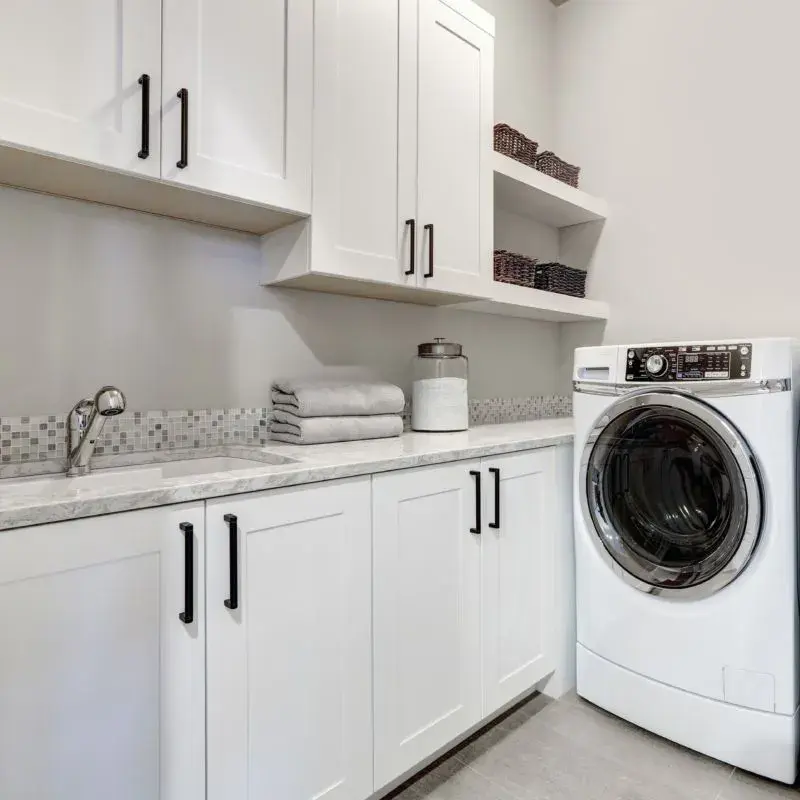 ---
Refacing your cabinets? Add to your new look with custom floating shelves.
During a cabinet refacing project, you'll naturally find yourself considering other small changes to enhance your kitchen design. Floating shelves offer a low-cost, effective way to customize your space. They're practical as well as attractive, and can be used to serve a variety of functions.
Our floating shelves come painted or primed to match your new kitchen. Contact us to order your custom shelves today.
---