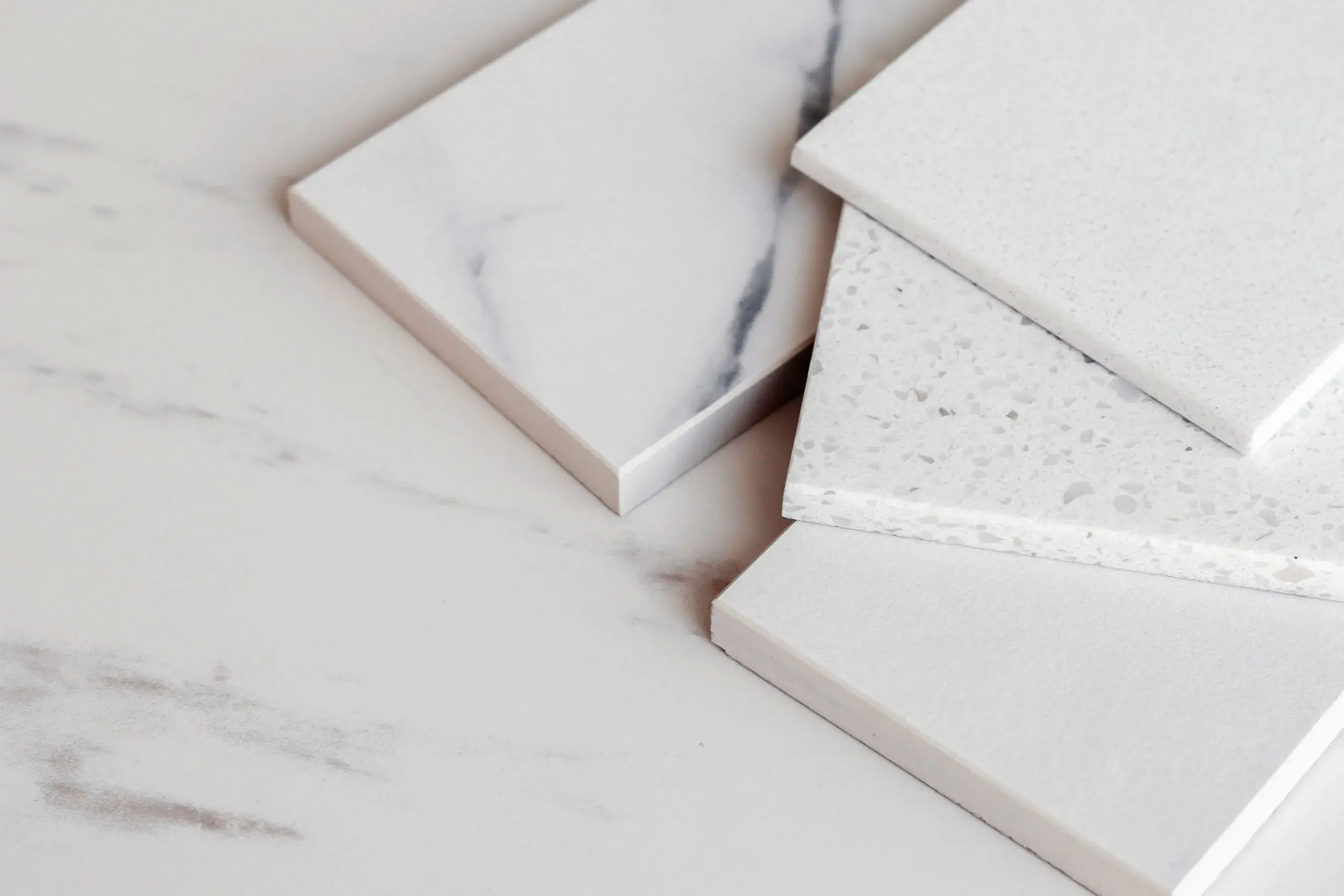 When was the last time you replaced your kitchen countertop? If the answer to that question is more than 10 years ago, you might be surprised to learn all the ways that countertop trends have evolved in recent years.
Countertop materials are more varied than ever. As a homeowner, you have choices! Knowing your options, including their costs, pros and cons can help you choose the best countertops for your kitchen.
Quartz Countertops
Cost range: $50 – $150 per square foot
It wasn't that long ago when most homeowners had never heard of quartz countertops. Today, quartz is one of the most sought-after kitchen counter material available – and for good reason. Quartz is durable, affordable and available in a wide variety of patterns and colours.
This engineered material is made from crushed stone and resins mixed together to form the hardest, most scratch-resistant material found in kitchens. Homeowners also love quartz because it can be molded to take on the appearance of nearly any natural material, including marble and granite.
Want the look of a marble counter without the maintenance? White quartz countertops are your best bet. Seeking the beauty of a granite countertop, without the sealing to prevent staining? A granite look-alike quartz countertop is right for you.
Pros:
No sealing required
Very scratch and chip resistant
Almost indistinguishable from natural stone counters
Widely available from specialty counter suppliers, or stores like IKEA offer custom quartz options

Cons:
Less affordable than DIY countertops
---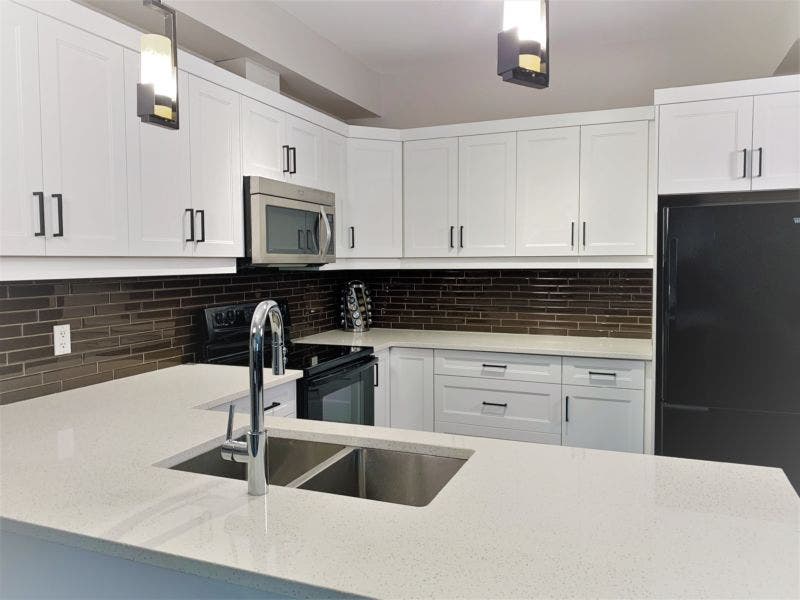 ---
Granite Counters
Cost range: $75 – $100 per square foot
Once upon a time, granite was the high-end countertop material that all homeowners craved. They loved its durability, longevity and its beauty. Today, granite's popularity has declined in favour of quartz countertops. Still, homeowners who are dedicated to natural stone counters tend to prefer granite because of its incredible hardness and scratch resistance.
Pros:
Available in a range of patterns and colours
Scratch-resistant
Durable

Cons:
Requires regular sealing to be protected from stains
---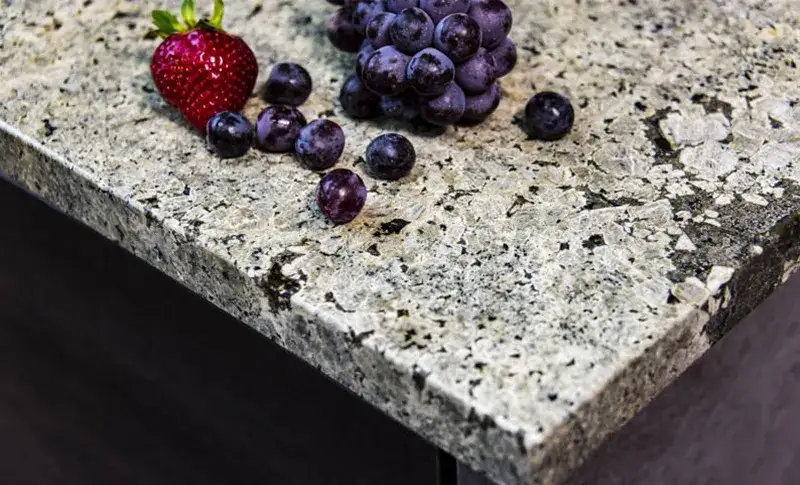 Granite offers natural variation in the stone, and a variety of colour and textures to choose from.
---
Marble Kitchen Counters
Cost range: $65 – $95 per square foot
Marble is a lovely countertop material available in stunning colours and patterns. Its classic beauty is unparalleled. That said, marble has never been as popular as granite, probably because it's a soft stone that can stain and scratch easily. You can prevent some of these problems by using trivets and hot pads, and by sealing your counters regularly. Families who are rough on their kitchens or have small kids often opt for an imitation marble-look quartz if they're not prepared to maintain marble.
Pros:
Timeless beauty
Long-lasting when properly maintained

Cons:
Susceptible to staining and scratching
Regular sealing required
---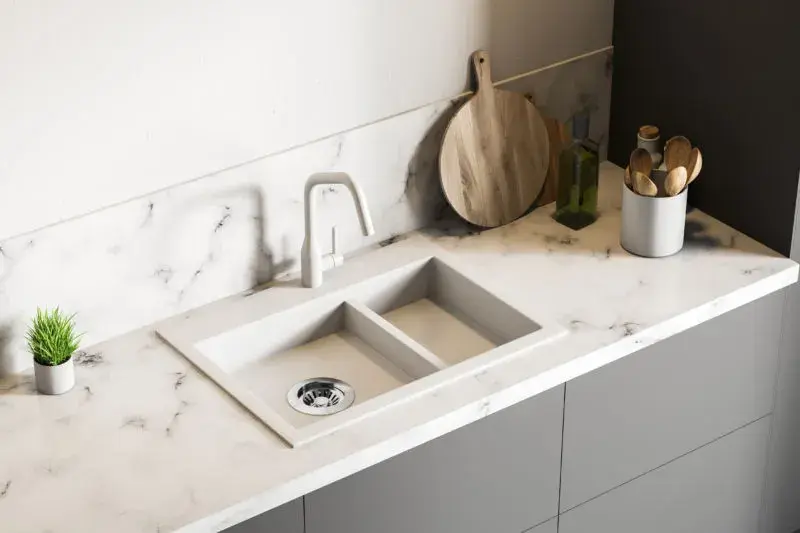 The veining and one-of-a-kind nature of every slab of marble make it a beautiful countertop choice.
---
Butcher Block Kitchen Counters
Cost range: $75 – $150 per square foot
Butcher block a.k.a wood countertops have their own unique charm. They're not as hard as stone, which some homeowners like (no noisy clinking sounds when glasses and plates are set down!).
On the other hand, wood can rot, so special care is needed to clean up any spills as soon as they happen. Wood also needs regular oiling to remain water-resistant. Over time, that oil leads to the development of a patina that some homeowners like and others dislike. In a farmhouse or coastal style kitchen, butcher block can be a huge hit, and can softens the harshness of all-white kitchen cabinets.
Pros:
Unique appearance that can't be replicated with other materials
Soft surface that is not as loud as hard stone
Wood is antimicrobial
Scratches and stains can be sanded out
Cons:
Can be stained by liquids
May swell or shrink with changes in humidity
---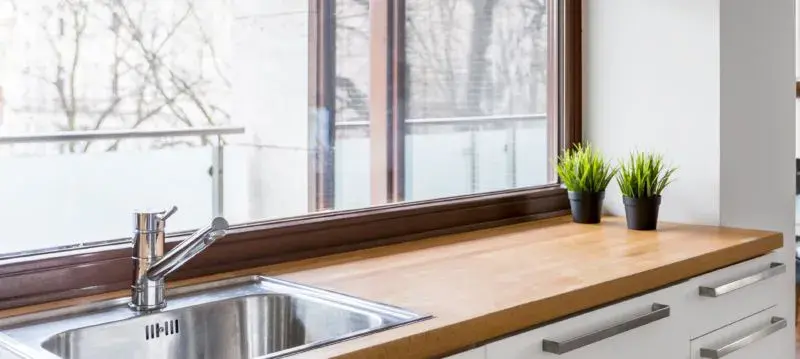 White cabinetry pairs well with butcher block for a warm, farmhouse look.
---
DIY Kitchen Countertops
Cost range: variable
Whether you're making your own wooden counters, creating an epoxy countertop surface, or trying your hand at concrete countertops, there are many pros and cons to this kind of home improvement project.
Pros:
Most cost-effective way to install a countertop
Can be fun to install, if you enjoy DIY projects

Cons:
Done incorrectly, DIY counters may not be as durable as commercially sold countertops
Many people are not comfortable installing their own counters
If the work is not done properly, it may not look like your dream counter
---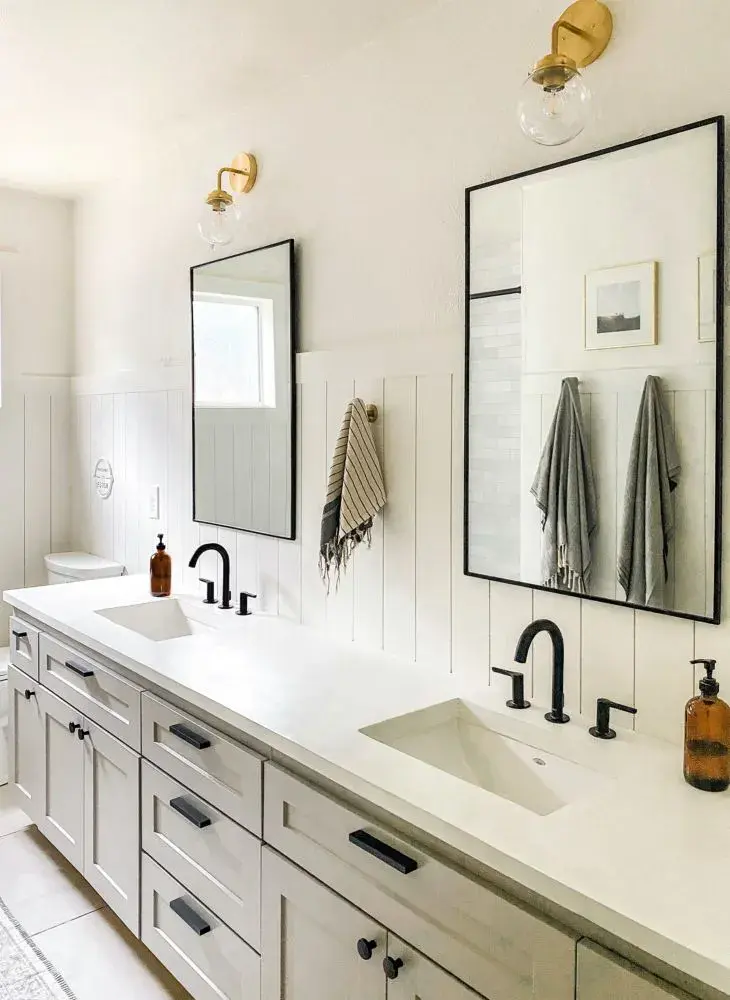 ---
How to Choose Your Countertop Material
Before deciding which counters to install, you'll have some things to consider. Doing research in advance can help.
Make a budget. If the material of your choice seems like more than you can afford, be prepared to shop around.
Visit a material supplier. Visiting a material store is a great way to find the look and product that appeals to you the most. It's always helpful to see these materials in person, and take home a sample if you can!
Consider value, durability, maintenance. Be sure you're prepared to perform maintenance on the countertop of your choice. Do not install a counter you're not willing to care for.

With a little research, you can find the kitchen counter material that's right for you, whether that's solid surface countertop, a DIY, or the ever-popular quartz. Shop around! Be sure to see the materials you're considering in person. Seeing the materials up close will give you a much better sense of how you'll feel about those countertops if you decide to install them in your home.