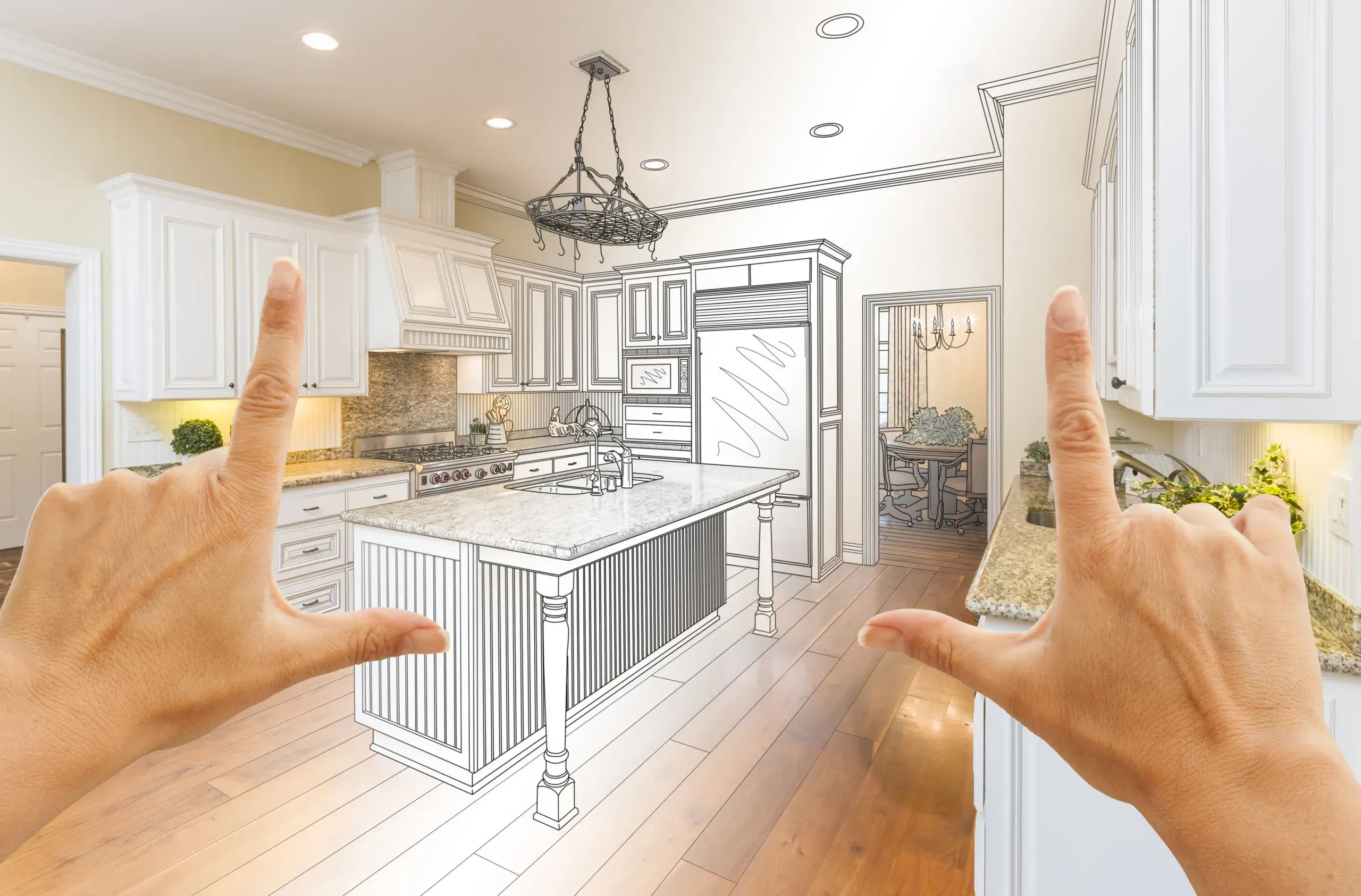 Deciding to renovate a kitchen is a big step. Aside from the financial commitment there are several decisions that need to be made before the first hammer is swung, and most of these decisions will have an impact on the budget. With homeowners tackling more DIY projects to save big on home improvements, a DIY kitchen renovation is a project that will have a big impact on your home for years to come.
---
1. Do your research
Doing some research into the different options for a kitchen renovation can introduce new kitchen ideas to a homeowner that may have otherwise been overlooked. The usual sources such as Pinterest, Instagram, and YouTube are great places to start and can provide motivation and direction on style and color palettes.
Big Box hardware stores introduce cabinet types and finishes and are a great place to see a wide array of options under one roof. Good research should expose all the options available for a DIY reno, but also give some guidelines as to cost of materials. It's important to learn which parts of the reno you can tackle yourself, and which should be hired out to professionals.
---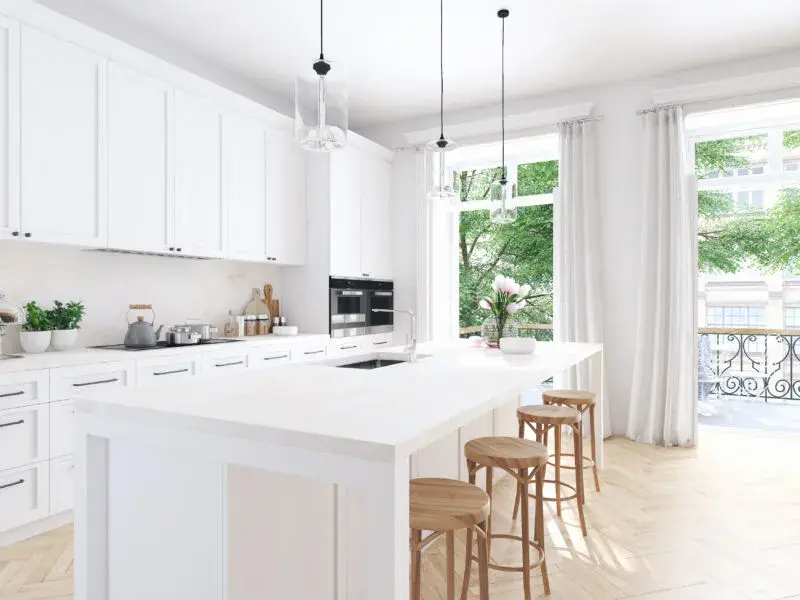 Find photos that inspire you and highlight the elements you want in your own space.
---
2. Prioritize your needs and wants
As fun as home renovation shows are to watch, they can set some unrealistic expectations for the average homeowner. Renovations that provide a big wow factor for an on-screen reveal might not offer the best solution for a typical family or its budget. Make a list, and consider all the things that your current kitchen is not doing for you.
Do you need more storage, more countertop space, a better layout, modern lighting, a gas range or all of the above plus a $25,000 Gaggenau Wine Cabinet? Prioritize your needs over wants and then see how the two lists mesh together. Determining costs for each often helps refine the list and define priorities. If it's not in the budget this year, decide which items can be purchased at a later time, without requiring re-work to your kitchen.
3. Determine kitchen finishes and costs
Once you've done your research and built a list of priorities, it's time to build pricing for each element of your renovation. Sourcing three prices for each item is a good idea especially with big-ticket items like countertops and appliances. Cabinet box and doors prices can vary widely depending on the materials and finishes.
Kitchen Cabinet Doors
At the low-end of the budget are vinyl wrapped doors constructed using either one piece or five pieces of material. At the high-end are solid wood doors, usually stained to show off the wood grains. A good middle ground is painted MDF doors as they offer an excellent balance of durability and price and are available in several styles including the ever-popular Shaker.
Countertops
Countertops are available at all price points as well. Though inexpensive, laminate countertops have come a long way since the 80's and are available in several finishes and textures, some of which look an awful lot like actual stone. Concrete countertops are another DIY project, but the results can vary, and the look is something that needs to be designed around.
For stone countertops the two most common materials are Quartz and Granite. Quartz is a manufactured product using a high concentration of quartz crystals and resin. Quartz is a popular choice as the manufacturing process ensures a consistent look throughout the countertop, allows for a variety of styles, and provides a durable, non-porous work surface. Granite has lost some ground to quartz over the last decade due to Quartz's strength and durability. Granite, being a natural stone cut down to slabs from actual rock formations, can vary widely from piece to piece as the veining and quartzite formations make each piece of Granite a unique piece of art.
Appliances
Appliance pricing ranges from affordable to "costing more than a new car" and come with a wide variety of different features and capabilities. Online consumer reviews are a great source for evaluating appliances. Seeking brands with a good reputation and a beefy warranty is usually a good investment.
---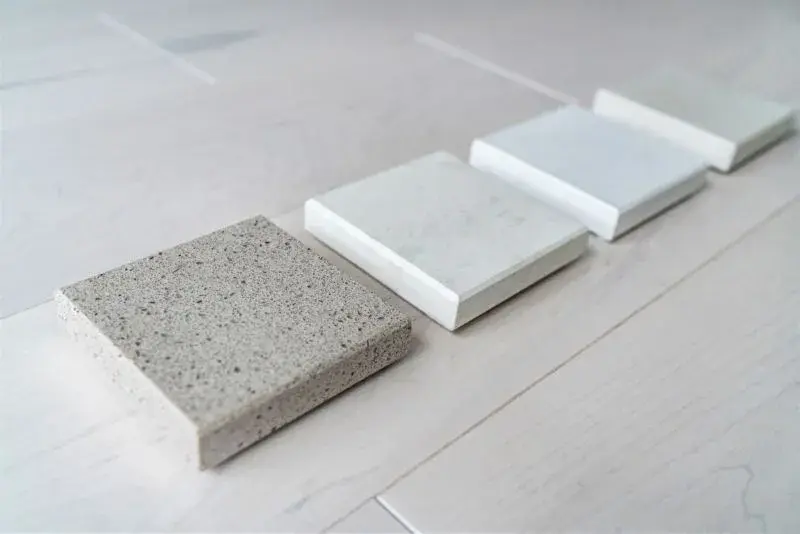 Quartz comes in a wide variety of colors, styles and textures, and is a durable work surface.
---
4. Determine your renovation budget (then add 20%)
Equipped with your research and product costs, take another look at your budget. Like many, you may find that you've exceeded your initial renovation budget. If so, and expanding the budget is not an option, dive into each element of your kitchen renovation and determine where you can save. Big cost reductions can be found in removing elements altogether, like not installing that island or keeping an older appliance.
Savings can also be found by choosing less expensive finishes; opt for quartz countertops instead of marble, or laminate instead of granite. Where possible, you might choose to pay for items in installments to avoid the stress of a big bill in a single month. Building in a contingency to your renovation budget of 10-20% is good practice and can help cover any unexpected surprises that come up as renovation progresses.
---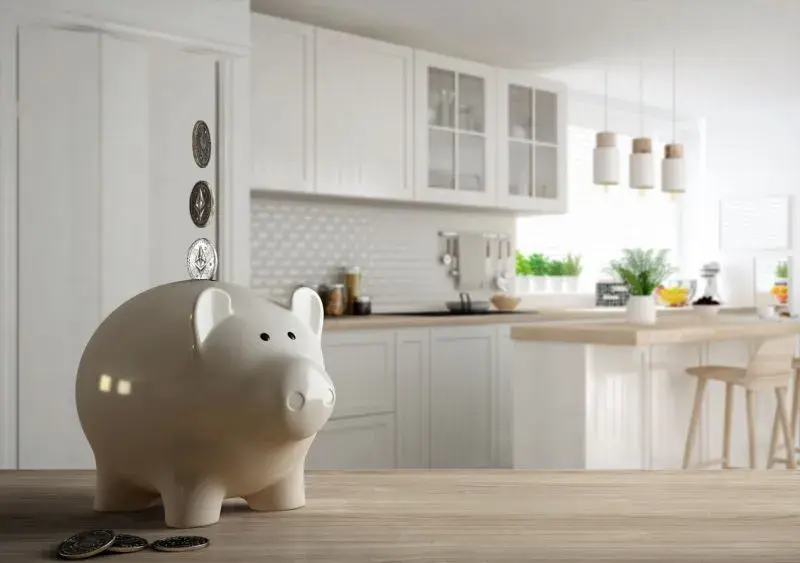 Quartz comes in a wide variety of colors, styles and textures, and is a durable work surface.
---
5. Figure out what you can DIY to save costs
Really want to stretch your budget? Take a good look at your renovation and see what you can tackle on your own. Hiring a contractor means offloading the heavy lifting, but at a high price. Doing It Yourself is a great way to maximize your budget and the savings can be put toward selecting better finishes. If you are unsure of your abilities, do some research. YouTube and Instagram's biggest contributors are homeowners turned DIY guru's who tackle DIY projects and provide tips and instructions to their followers. You will likely be surprised at what you can accomplish (and save) by picking up a drill and going for it.
6. Green is good, determine what can be repurposed
In older homes, some fixtures including cabinetry, are much better built than what is available today. The same logic applies to hardwood flooring and some bathroom fixtures. Take a hard look and see what you can live with if it were given a bit of TLC and revitalized. Bathtubs can be re-glazed and hardwood floors sanded and refinished. Cabinetry can be sanded, painted and reborn with new doors and drawer fronts. Even if you decide to replace, your items may have value on the used market or be donated to a worthwhile cause like Habitat for Humanity or ReStore.
7. Spend on quality kitchen upgrades
Buy quality whenever you can. Spend money wisely by choosing quality where it counts, usually countertops, cabinet doors and appliances. Quality is important for both real estate considerations but also living in your home long-term. By opting for as much quality as you can afford, you are likely to get the most mileage out of your purchase. Things like expensive pull-out racks for pantry cabinets or in-cabinet organizers can always be added a year or two down the road once your budget allows for it – often for the same price as when your kitchen is being installed. Gadgets are neat but can chew up a budget, instead, spend on the best countertop and cabinet doors you can afford.
---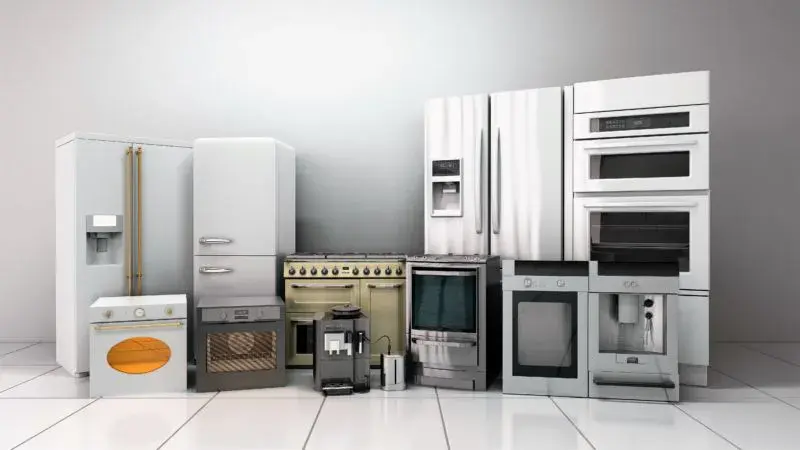 Choosing higher end appliances can expand the time between replacing units.
---
8. Make a renovation plan and stick to it
You've done the research, picked your finishes and figured out how much DIY you can handle. Stick to the plan and your budget should hold. The excitement of a reno can lead to a lot of "it makes sense to do it now" type of project add-ons, which can add up quickly, so stick to your plan as much as possible. A kitchen completed on budget will give you and your wallet peace of mind, and a space you can enjoy for years to come.
---
The 8 Tips for your Kitchen Renovation
1. Do your research
2. Prioritize your needs and wants
3. Determine your kitchen finishes and costs
4. Finalize your budget, then add 20%
5. DIY to save costs
6. Green is good
7. Spend on quality kitchen upgrades
8. Make a renovation plan and stick to it