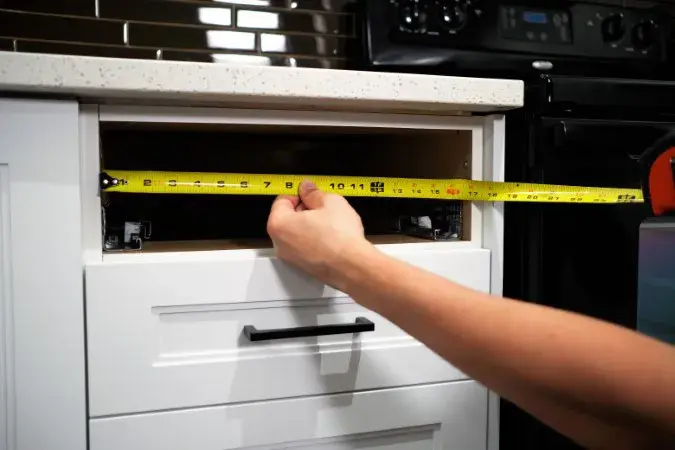 A common complaint about kitchens is the lack of drawer storage. Many builder's grade kitchens only have a single stack of 4 drawers, and often these are not large enough to store large items like pots and pans.
Installing a wide pot and pan stack of drawers in an existing 'doored' base cabinet is a simple yet highly effective way to increase the usable storage space in a kitchen. Refacing your kitchen is a great time to not only replace your cabinet doors but also to increase the functional storage space with pot drawers.
What is a pot and pan drawer stack?
A pot and pan stack is typically made up of three drawers, two 10" high drawers at the bottom, and one 4" high drawer at the top. The deep drawers typically house your frequently used pots and pans while the shallower top drawer is for utensils or cutlery.
We've summarized into a few simple steps everything you need to know to create a pot and pan stack of drawers.
1. Find the Best Cabinet to Convert into Drawers
Pot and pan stacks are best if they are not next to a corner. Select a base cabinet that is central in the kitchen. A double door cabinet in a frameless kitchen is a great spot to convert to pot and pan drawers as it will offer a width that is typically anywhere from 24" to 36" wide.
In a framed kitchen, look for a cabinet that does not have a stile or frame running between the two doors. The stiles can sometimes be removed, but in many kitchens, they do provide support for the weight of the countertop.
2. Plan your Drawer Layout
Determine how many drawers you would like to install in your base cabinet based on your needs and how you use your storage.
The most common layout for drawers is 2 boxes at 10" high and one at 4" high.
You may find a two-drawer stack works best with two extra deep drawers.
If you want to store a lot of baking sheets or utensils you might want to consider one 10" deep drawer with three 4" deep drawers above it.
3. Measure the Inside Cabinet Width (ICW)
The ICW on a frameless kitchen is the inside width from wall to wall of the cabinet box.
On a framed kitchen the ICW is the width of the opening from the inside edge to inside edge of the framed opening.
The Inside Cabinet Width will determine the width of the drawer box required, as the drawer box width needs to be less than the ICW. The reduction in width depends on the type of drawer slide being used.
For our soft-close undermount slides, 3/8" is deducted from the ICW to determine the overall drawer width.
Side mount slides typically require a ½" deduction from each side, or 1" overall.
---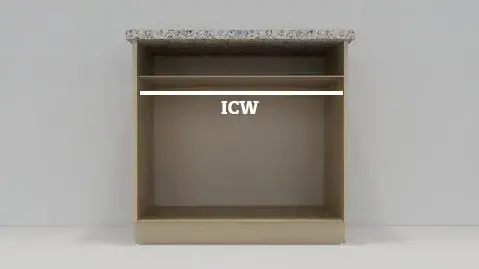 ---
4. Measure the Cabinet Depth
Measure the depth of the cabinet from the back of the cabinet box to the front. Most base cabinets are 24" deep. When measuring check for obstructions in the back of the cabinets. In some cases, builders may run electrical or plumbing through the back of cabinets and you may need to reduce your drawer depth to clear the obstructions.
The standard drawer box depth within a 24" base cabinet is approximately 21.6".
5. Measure for Drawer Fronts
Armed with your drawer box layout, measure for the height of the drawer fronts first:
Let's use an example of a 30" tall base cabinet with a single 6" high drawer face and two doors 24" tall. To replace the two 24" tall doors you could order 2 fronts at 12" tall, right? Wrong.
The drawer fronts need a gap between them, so they don't touch when closed. Reduce the height of each drawer face by 1/8" allowing for a gap between faces. The 12" fronts should be ordered at 11-7/8" high and the top drawer face is actually 5-7/8" high.
The width of your drawer fronts should be 1/8" less than the outside width of your cabinet on a frameless kitchen.
On a framed kitchen, keep your drawer front overlay consistent with the rest of your doors and drawer fronts.
---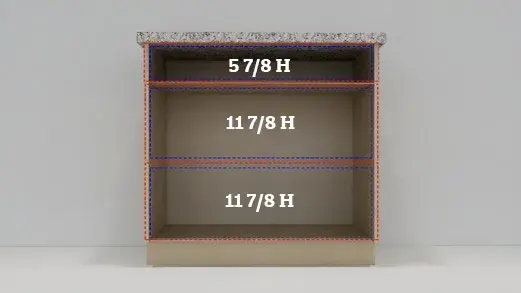 ---
6. Choose a Matching Drawer Box Height for the Drawer Face
The height of your drawer box should a minimum of 1-3/4" shorter than the height of your drawer face to allow the undermount drawer slides to clear the box mounted below and allow for the drawer front to overlay the cabinet face.
Back to our example above, for the 11 7/8" drawer faces, order the 9-1/16" (230mm) high drawer boxes, and for the 5 7/8" drawer front, order the 4 1/8" (105mm) drawer box.
7. Order your New Dovetail Drawer Boxes
With the measurements you took using the steps above, you are now ready to order drawer boxes using our online order form.
Step 1: Select how you measured; Inside Cabinet Width or Exact Drawer Box WidthNote – If ICW is selected we will deduct the necessary amount for our Blum Undermount Slides. If you are supplying your own slides please let us know Make, Model and Size in the Notes section.
Step 2: Enter the width, in inches.
Step 3: Select drawer box height from our standard list of sizes
Step 4: Select depth from our list of standard sizes
Step 5: Select hardwareWhen ordering drawer boxes, you have the option of adding undermount soft close slides to your drawers. If you are supplying your own slides please let us know the manufacturer, model and size so that we can prepare the drawers correctly.
---
Enhance your kitchen with a pot and pan drawer stack
By tackling these simple steps, you can enhance your kitchen makeover by adding function with additional drawer space for easy access or storage of large items like pots and pans. Quality built wooden dovetail boxes with soft close slides will give your kitchen that new-again feeling, and last for many meals to come.
---